Mexican heavy haulage company Pesado Transport has moved precast concrete elements at the Dos Bocas refinery using Goldhofer equipment.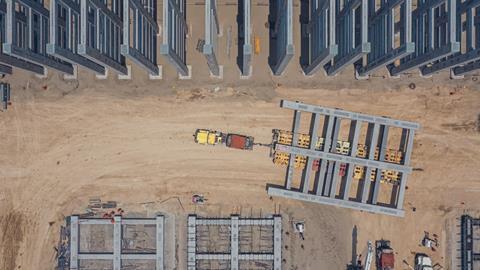 650 heavy and oversized components were handled at the site in Tabasco, with a total weight of more than 105,000 tonnes. The heaviest items tipped the scales at just over 700 tonnes.
Three different heavy-duty combinations from Goldhofer's THP/SL range were used, including a 16-axle and a 10-axle parallel combination, each with a width of 6.3 m, for the 705.5-tonne and 441-tonne concrete elements. A 12-axle combination was used for the 246.5-tonne components.
In addition to the typical obstacles and confined space for maneuvering at any construction site, the changeable weather conditions of the coastal location near the port of Dos Bocas also had to be taken into account. Pesado took just four months to move all the precast elements to their designated locations, where cranes were used to lift them into their final positions.
"Flexibility is always called for when it comes to safe, fast and economical transport operations on construction sites. The key is to handle the maximum number of journeys with the minimum number of vehicles. Goldhofer's THP/SL modules can be configured end to end or side by side and so offer almost unlimited options for handling challenging loads. That makes them a reliable solution for us when it comes to meeting demanding project deadlines," said J. Dolores Coronado, project manager at Pesado.
The Dos Bocas refinery is scheduled to come onstream in 2022. The refinery is owned and will be operated by state-owned Petroleos Mexicanos (Pemex).
www.goldhofer.comm