Rhenus Project Logistics is handling the delivery of 25 tanks from Kitzingen, Germany, to the Old Bushmills distillery in Northern Ireland.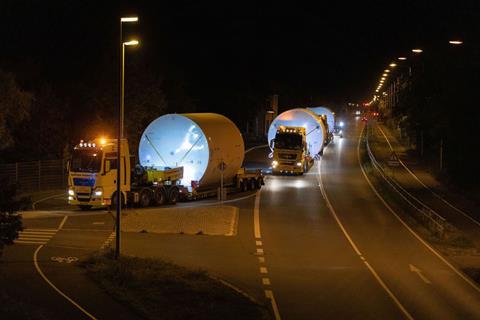 The tanks are accompanied by energy storage units, electrics, connecting elements, and pipes. Some of the larger components weigh up to 22 tonnes and measure 17.5 m long and 5.15 m high.
Approximately 4,000 freight tons of cargo has already arrived at the port of Londonderry in Northern Ireland and is now being gradually moved to the distillery's building site, located 60 km away.
The cargoes were first loaded onto special trailers at GEA Brewery Systems' factory in Kitzingen and then moved to the port, where the units were stowed onboard an inland waterway vessel ahead of onward transportation to the Rhenus Deep Sea Terminal Maasvlakte in Rotterdam, the Netherlands.
Rhenus Maritime Services organised the transport to Londonderry using a breakbulk vessel. From there, Rhenus Project Logistics took over the coordination of the final delivery.
"Selecting a suitable port and handling the initial and final sections of the transport operations were particularly challenging," said Yvonne Nikolaus, project manager at Rhenus Project Logistics. "It was essential to plan and survey the route in great detail because of the height of some of the freight items and coordinate the closure of roads and brief interruptions to power supplies with the local authorities."
The final delivery of GEA equipment is planned to take place in February 2021.