RSL Shipping Singapore has handled the export of an oversized steel hose reel that measured 17.5 m x 13.6 m x 14.8 m and weighed 256 tonnes.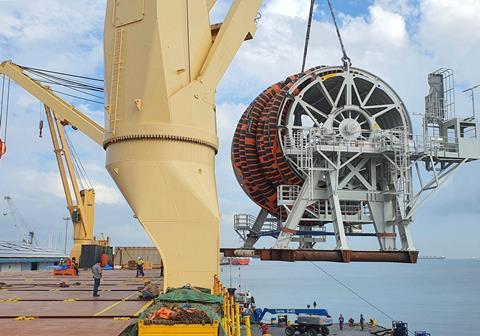 RSL Shipping, in cooperation with its South Korean partner Esprit Logistics, first coordinated the ro-ro loading of the cargo onto a barge at the fabricator's berth in Tuas-Pioneer. This involved pre-setting the barge deck with steel plates to distribute the weight of the load. SPMTs were used to move the cargo onto the barge, with the move taking place during a two-and-a-half hour window as a result of the tidal constraints and restrictions imposed by the relevant maritime authority.
With the roll-on completed, lashing with steel wire ropes and turnbuckles commenced. The laden barge then made its way to a nearby private waterfront facility where it waited for final confirmation of the time of arrival for the ocean-going vessel at Jurong port, from where the hose reel would be shipped to Geoje, South Korea.
With the vessel's arrival time confirmed, the barge moved to Jurong to tie up alongside the ship. This, according to RSL Shipping, avoided berthing separately in Jurong port to await the vessel's arrival, minimising barge detention and extra dockage, berth, assisting tug costs.
RSL Shipping said that with limited daylight remaining and impending rain, unlashing of cargo immediately commenced.
During the pre-setting of dunnage on the vessel's deck to distribute the load's weight, the ship's crew began ballasting operations in preparation for the loading. RSL Shipping added that this was completed concurrently to save time. A single crane, with a maximum lifting capacity of 400 tonnes, then began the overside direct loading.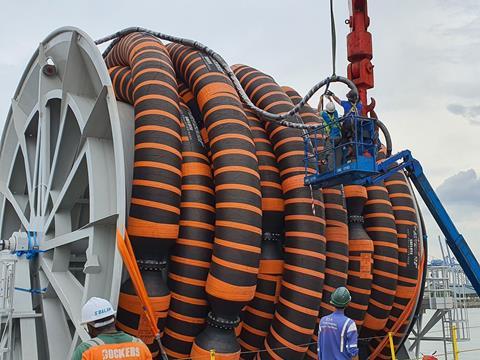 Once the reel was placed on the ship's deck, some re-balancing work was completed with extra dunnage as the cargo's centre of gravity was slightly off-centre, said RSL Shipping. With the extra dunnage in place, the lashing and welding commenced before the ship departed the port.
Some of the challenges of the project, RSL Shipping continued, included changing timelines of cargo readiness, tidal constraints at the fabricator's berth in Tuas-Pioneer, and delays to the estimated time of arrival of the vessel at Jurong port. All the while, RSL had to meet the requirements of the port authorities and various stakeholders.
The company provided a marine surveyor to check on each movement and provided the ship's representative, consignee's agents and the shipper with a method statement; roll-on/SPMT transport plan for the barge loading; barge deck stowage/lashing plan; intact and damage report; ballasting stability calculations; slings and shackles certificates; an overside lifting/stowage plan; as well as tug and barge certificates.
RSL Shipping and Esprit Logistics are members of the WCA Projects network.