Solis Marine has provided assistance to Jumbo during the mobilisation of the heavy lift crane vessel Jumbo Javelin, which will be used for the Yunlin offshore wind farm project in Taiwan.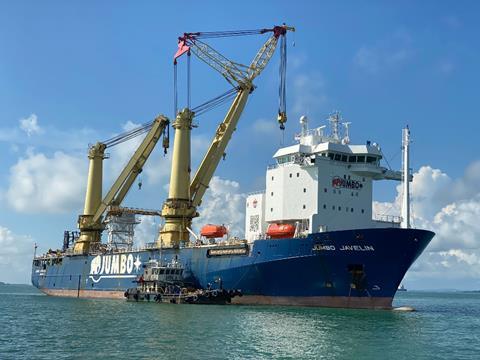 Jumbo was awarded the contract for the transportation and installation of wind turbine structures earlier in 2020, as HLPFI reported here.
To equip Jumbo Javelin for the installation scope, several modifications and upgrades were required. To manage this, Jumbo assembled a team of in-house offshore professionals and contracted several suppliers and subcontractors that would travel to Singapore to perform the mobilisation.
However, Covid-19 travel restrictions prevented Jumbo from deploying its Netherlands-based offshore team to Singapore to prepare for Jumbo Javelin's mobilisation. As a result, the heavy lift shipping company approached Solis Marine, which was granted a general expedition the Singapore Ministry of Trade and Industry (MTI), to provide ground assistance.
As the company was able to continue operations in the country during the pandemic, Solis Marine provided a technical superintendent/project manager and port captain/mobilisation supervisor, who worked closely with an electrical engineer that was locally contracted by Jumbo.
The mobilisation scope included the positioning and installation of transition piece grillages; installation of offshore accommodation, lifeboats, life-rafts and fast rescue craft; and the re-certification of Jumbo's modular fly jib.
Solis Marine also assisted Jumbo with the on-hire and mobilisation of an Anchor Handling Towage Supply (AHTS) vessel, which will support Jumbo Javelin on the project.
Captain Sjoerd Blomsma, manager of the project on behalf of Solis Marine, said: "We explored and applied alternative solutions where required, meaning that time lost on the project due to Covid-19 factors has been kept to a minimum."