G2 Ocean's general cargo vessel Star Kilimanjaro has once again called at the port of Vancouver USA to deliver wind turbine components destined for the Golden South wind energy project in Canada.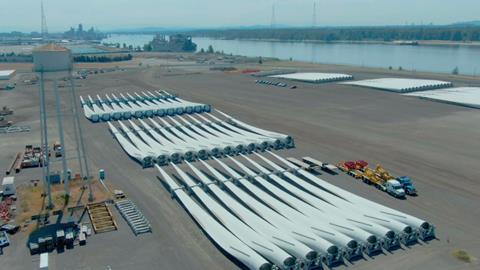 HLPFI readers will recall that the port received 27 wind turbine blades, each measuring 67 m long, earlier this year.
This latest shipment originated from China and arrived in Vancouver on July 22. It included what the port claims are the longest blades ever delivered to the West Coast of the USA – the 76 m-long blades that make up Goldwind's GW155/4.2 MW turbines.
The shipment also comprised nacelles, generators, hubs, tower sections and other sub-components, as well as one set of 67 m-long wind turbine blades.
With the help of Jones Stevedoring, the components will be unloaded and moved to laydown space at the port's Terminal 2 and Terminal 5. From there, Totran Transportation will move the components to the wind farm site in Saskatchewan, Canada.
Four additional ships carrying turbines will arrive later this year. In total, the port will eventually handle 50 full turbines – comprising 750 large-scale components – for the Golden South wind project, which will include both the GW 136/4.2 and GW 155/4.2 MW models.