Stevens Towing partnered with Edwards Moving and Rigging and Crofton Diving to assist in the removal of a decommissioned nuclear reactor from the NS Savannah in Baltimore, USA.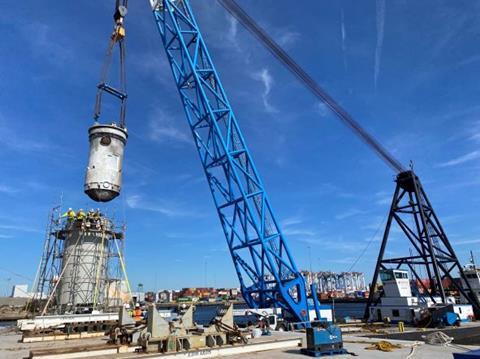 NS Savannah was originally built as a nuclear-powered cargo and passenger vessel and has been sitting in Baltimore as a museum piece for the last several years.
Crofton Diving lifted the reactor out of the vessel with its floating derrick Samson and landed the reactor into a specialised container on Stevens Towing's deck barge Stevens 2501. According to Stevens Towing, the deck barge is only of only two in the USA with a certificate of inspection to carry class seven dangerous goods and radioactive materials.
The container was sealed and filled with packing material then upended from a vertical to a horizontal position. Stevens Towing's tug, Sea Crescent, then shifted the Stevens 2501 to an adjacent pier where the reactor was lifted off the barge and loaded onto a truck.
The reactor was ultimately loaded onto a railcar for transport to its final storage location.