USA-based Stevens Towing has delivered heavy and oversized cargoes for a paper mill in Macon, Georgia.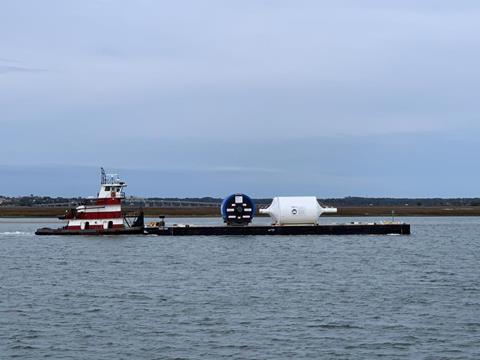 The shipment comprised two 78-tonne through-air dryer (TAD) rolls and a 133.5-tonne yankee dryer. The TAD rolls were loaded onboard Stevens Towing's RWS 1501 deck barge in Portland, Maine, and towed to Charleston, South Carolina, with the assistance of the tug Island Trader.
The yankee dryer was manufactured in Europe and shipped to Charleston onboard a container vessel.
In South Carolina, the Charleston Heavy Lift team discharged the yankee dryer from the container vessel at Wando Terminal with its 500-ton (453.6-tonne) capacity floating derrick Ocean Ranger, and loaded it onto the RWS 1501 with the two TAD rolls.
The barge was pushed to Georgia Port Authority's (GPA) Mayors Point Terminal in Brunswick using Stevens Towing's tug Island Fox via the Atlantic Intracoastal Waterway.
On arrival in Brunswick, Stevens Towing partnered with T&T Salvage, which deployed its floating crane Pacific to tranship the cargoes onto trucks for road transport to the paper mill.
Stevens Towing has had a busy first quarter of 2021, with project cargo moves taking centre stage. Most of these projects were scheduled for 2020 but were delayed due to Covid-19 and the outcome of the US election, said Stevens Towing.
"Many of these moves have also kept our heavy lift floating crane division busy loading/unloading pieces to and from ships, barges, trucks, and rail cars," added Stevens Towing. "As a consistent first quarter comes to a close, looking back on what we have accomplished makes for a promising start to the year. We are optimistic that things will continue with this recent trend towards getting back to normalcy as the year goes on."