A trio of tunnel boring machines (TBMs) have arrived at Canada's Hamilton-Oshawa Port Authority's (HOPA) facilities destined for Metrolinx's Eglinton Crosstown West extension and Scarborough Subway extension projects.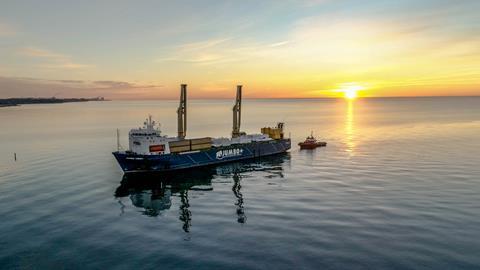 All manufactured by Herrenknecht in Germany, the larger Scarborough Subway extension TBM, measuring 12 m in diameter, was delivered to the port of Oshawa. The two TBMs for the Eglinton Crosstown West extension project, measuring 6.5 m in diameter, were delivered to the port of Hamilton.
The TBMs were loaded onto vessels in pieces and will be assembled at their final destinations.
The Scarborough TBM arrived at the port of Oshawa onboard the heavy lift vessel Jumbo Vision.
Over the course of a week the port's stevedores, QSL, discharged the TBM piece by piece. QSL senior sales representative, Kevin Paradis-Rioux, said: "QSL is a provider of tailor-made solutions for all cargo types. This particular job has taken over a year to coordinate from start to finish. The discharge of the TBM is an example of the customised solutions we can provide for heavy equipment manufacturers."
The TBM cutter heads bound for the Eglinton Crosstown West project arrived onboard Fednav's Federal Delta and were handled by Federal Marine Terminals (FMT). "Handling the TBMs from a Fednav vessel illustrates our complete, integrated service offering, providing reliability and value to our customers." said Matthew McPhail, vice president, sales and marketing at FMT.