Dubai's latest landmark – the Infinity Bridge – opened to traffic on for the first time on January 16. Last year, Mammoet and Aertssen Machinery Services (AMS) were called upon to install steel segments that made up its arch.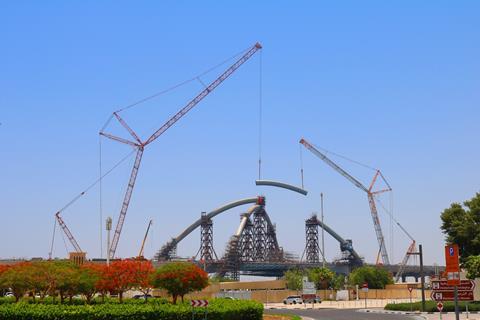 Built by BESIX Construct, a Middle Eastern subsidiary of a Belgian company BESIX, the Infinity Bridge is located over the Dubai creek. Its arch comprises 40 steel segments ranging in weight up to 130 tonnes. The installation work had to take place from the creek's banks.
Mammoet and AMS utilised two Demag cranes: a CC 3800, which was positioned at the northern side of the creek, and the CC 8800-1, positioned on the southern bank. The CC 8800-1 took on the majority of the weight of the tandem lifts. The operations lasted six months, with the last lifts taking place in May 2021.
"Working in partnership with Aertssen, we provided equipment with sufficient capacity and reach, along with specialist engineering to support the operation of the CC 8800-1 to maximise the overall utilisation and its capacity," said Somnath Bhattacharjee, crane operations manager for Mammoet's UAE branch.
"Each lift required an extraordinary level of precision as the tolerances for joining the segments were a matter of millimetres. But when you have the right machines and a great team, all goes smoothly." he added.
The Infinity Bridge project is part of Dubai's Road and Transport Authority's Shindagha Corridor improvement project, which covers a 13 km-long road network. The bridge can accommodate 24,000 vehicles per hour in both directions and features a combined 3 m-wide track for pedestrians and cyclists.