The port of Goole has facilitated the delivery of a 155-tonne transformer destined for the Cottam power station in North Lincolnshire.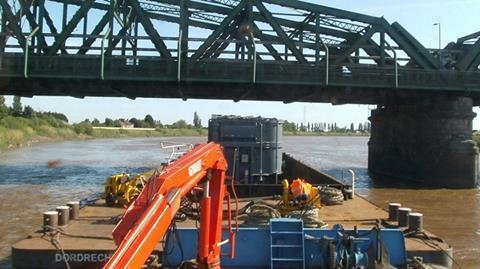 The transformer was initially shipped from South Korea to the port of Rotterdam in the Netherlands. It was then loaded on Scotline's general cargo vessel River Trader for onward transportation to Associated British Ports' (ABP) facilities at Goole, located on the River Ouse.
In Goole, the transformer was loaded onto a barge for delivery to Cottam via North Lincolnshire's waterways.
Prior to the transhipment in Goole, the barge – Lastdrager 19 – was shipped from Rotterdam to the port of Hull. From there, Deans Marine Services deployed its tugs Pushette and Gillian Knight to tow the barge to Goole.
For the loading operations, Global Shipping Services used a 1,100-tonne capacity crane to lift the transformer off the River Trader and onto a modular transporter, which drove the unit onto the Lastdrager 19.
The tugs Pushette and Gillian Knight were once again deployed to tow the barge out of Goole's Ocean Lock, headed for the River Trent.
The ABP marine team then oversaw the navigation of the barge laden with cargo along the river and under Keadby Bridge. According to ABP, this was a critical part of the transport; timing had to be perfect to ensure there was enough water height to remain afloat and enough clearance under the bridge to pass safely.
Another critical point of the project involved passing under a stone bridge in Gainsborough. The stone bridge also marks the southern boundary of ABP's Harbour Authority limits on the River Trent. The remaining part of the journey fell within the Canal and River Trust district.
After navigating tight corners at Stoney Bight and Martin Hill, the barge arrived at Cottam nearly 36 hours after leaving Goole.