United European Car Carriers (UECC) is delivering 87 trams to Oslo in Norway.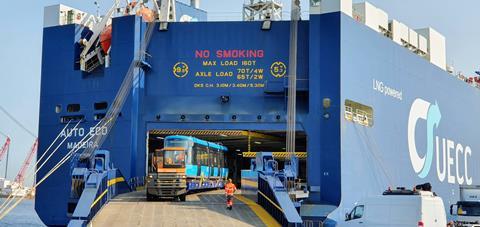 UECC is coordinating the deliveries in cooperation with Spain-based tram manufacturer and mobility company CAF and Noatum Logistics.
The first tram was loaded on the UECC dual-fuel LNG pure car truck carrier (PCTC) Auto Eco in Pasajes, Spain, on September 11, 2020. It was then loaded onboard the conventionally powered vessel Spica Leader in Zeebrugge, Belgium, for onward transportation to Drammen, Norway.
Another four trams are scheduled to be delivered in 2020, and regular shipments will commence in September 2021.
At the end of 2021, UECC will take delivery of the first in a series of three newbuild PCTCs that will be equipped with a battery hybrid LNG propulsion system. The company expects to deliver the remainder of the trams using these ships.
The trams are being shipped partially assembled, with final assembly, testing and detailing to be completed upon delivery in Oslo. All 87 trams are expected to be in service by the end of 2024.