Collett & Sons is working with P. Adams Transport to manage and transport all wind turbine components for the Windy Rig wind farm located in Dumfries and Galloway, Scotland.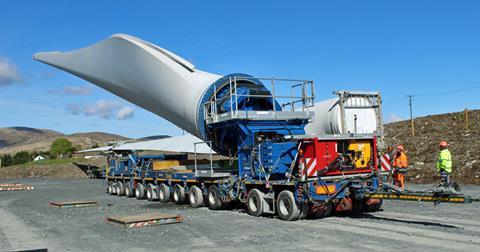 The wind farm will consist of 12 Vestas V112 turbines. Each turbine features 55 m-long blades and 69 m hub heights. The blades are being transported via the port of Ayr, while the remaining components are being delivered from King George V Dock in Glasgow.
For the blades, Collett is first utilising its super wing carriers to transport the components to a transhipment point 18 km from the wind farm site. Here, the blades are then transferred onto a blade lifter trailer operated by P. Adams.
According to Collett, this is the first time a blade lifter is being used in the UK.
In contrast to the super wing carrier, which places the blades on the deck on the trailer, the blade lifter mounts the blade horizontally on to the module. Using its hydraulic lifting system, the blade can be tilted to an angle of up to 60 degrees, avoiding the need for extensive civil engineering works that are potentially expensive in both time and cost, said Collett.
The remaining components are delivered utilising Collett's fleet of specialist trailers. The tower sections, the longest of which measures 30 m, while the heaviest weighs 55 tonnes, are transported using specialised tower clamp trailers. The heavier components such as the nacelle and drive trains, weighing 64 tonnes and 61 tonnes respectively, are being transported on multi-axle lowbed trailers.
All component deliveries are underway and are expected to be completed later this year.