Demand for ro-ros has surged over the past 18 months with rates hitting record levels. Operators are relishing prospects in the years ahead, writes David Kershaw.
The ro-ro shipping sector has established a strong foothold in the project cargo and breakbulk shipping business. As its nomenclature suggests, its ability to handle heavy pieces without the need for multiple lifts proves appealing to many shippers – particularly those that make long, sensitive items or wheeled units. 2022 proved to be a bumper year for ro-ro lines.
Ro-ro vessels themselves are hot property and the prospects for the next 12 months are positive. After 10 years of relatively limited newbuild activity, demand has surged over the past 18 months with rates hitting record levels this year. Supply was so tight at the end of 2022 that NYK, Wallenius Wilhelmsen and Höegh Autoliners suspended spot bookings. Much of the demand came from the automotive sector. Semiconductor shortages that hindered vehicle manufacturing in 2021 and 2022 have been addressed and output surged. Moreover, the Chinese electric vehicle export market has continued to heat up.
Magnus Ödling, vice president, global industrial account development at Wallenius Wilhelmsen, said that a decrease in service levels provided by containers carriers, coupled with steep rate increases, resulted in "quite a number of requests for cargo that we historically did not see. To be honest some of these were, and are, simply not suitable for ro-ro."
An equilibrium had to be found. "In an effort to balance needs of other customers, we had to evaluate each request to determine if a ro-ro solution would truly make a difference in terms of quality and efficiency. We work with our customers on how to best pack and secure cargo, so it is also important to ensure any new types of cargo that we are accepting can be shipped in the safe ways that we are accustomed to."
Carsten Wendt, senior sales manager, high and heavy and breakbulk sales for Wallenius Wilhelmsen, said ro-ro lines were held hostage to the same challenges that created capacity constraints and delays across the entire shipping and logistics industry. "One of the contributing factors was port congestion, which created a compounding affect. As vessels were unable to maintain their schedules, it created a 'lag' as they were unable to get back to load regions. And we keep getting confronted with new constraints, most recently with the effects of the biohazard requirements in Australia where we, and several of our competitors, have been forced to reduce tonnage due to the severe waiting times in ports."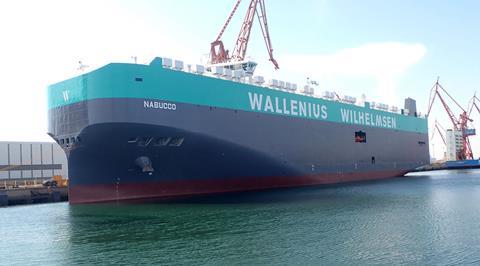 Excess demand
He also reported that high raw material prices drove simultaneous demand for construction, mining and agricultural machinery. "2022 was a record year for several of our high and heavy customers. Since breakbulk is 'competing' with high and heavy equipment for the premium space on board our vessels, it resulted in a capacity squeeze that by Q4 meant we had to stop accepting spot bookings."
[We have seen] quite a number of requests for cargo that we historically did not see. To be honest some of these were, and are, simply not suitable for ro-ro. – Magnus Ödling, Wallenius Wilhelmsen
This year kicked off in strong fashion, although the consensus is that the second half will be slightly softer. Utilisation rates are expected to remain at historically high levels, however. Demand for commodities is likely to continue rising, creating the need for heavy plant and machinery deliveries, while infrastructure investment packages in the USA will create a wealth of power generation and civil infrastructure logistics work for carriers.
Nevertheless, the economic outlook clouds the picture. While this varies from nation to nation, rising energy prices, inflation and declining consumer confidence are weighing on the global economy, which is forecast to grow only modestly at about 2.2 percent in 2023, according to the Organization for Economic Cooperation and Development (OECD).
Saudi Arabia-headquartered Bahri has been in the liner business since 1978 with vessels that, from the outside, looked like feeders but were actually multipurpose ro-ro units. In 2012, the company switched to the six vessels it operates today – all of which are capable of handling high and heavy rolling cargoes.
Global liner services
Traditionally a North America-Middle East carrier, Bahri's liner service has been extended around the world, said Soror Basalom, president at Bahri Logistics. Starting in Dammam and headed east, its vessels call at most major markets including India, China, Indonesia, Vietnam, Pensacola, Houston, Wilmington and Baltimore, and the Mediterranean. Small detours can be made on inducement, but it is very much a liner service first setup. "It's a very tough service until you secure the business," Basolom explained.
He also noted the structural shift in the ro-ro sector, with the car industry addressing its semiconductor shortfalls and the rise in demand for EVs creating substantial demand. "There's a huge demand for ro-ro from Far East to Europe, from Far East to the USA – this made the big carriers cancel their India calls and capture the pure car market… we don't carry too many cars, we carry big and heavy. So, we love Mafis. We're married to Mafis." The major clients filling its vessels are in the energy and the mining sectors. "We also move lots of 'work in progress' items for American organisations from India and China to the USA," he explained.
There's a huge demand for ro- ro from Far East to Europe, from Far East to the USA – this made the big carriers cancel their India calls and capture the pure car market… – Soror Basalom, Bahri Logistics
Bahri launched a new service in January – a pendulum route from Asia to Europe. The service line runs eastward from Bremerhaven to Antwerp and Montoir in Europe through to Jeddah, then to Ennore in India, and onwards to the ports of Taicang and Shangahi in China, before returning.
Bahri also hopes to expand the size of its fleet by 50 percent this year with secondhand vessel acquisitions. An eight-year plan is being worked on that will eventually see it bring in new tonnage with enhanced specifications. "We want to change the design of the vessel. We will continue to be a liner service. We might have one or two ships out in the market for charters."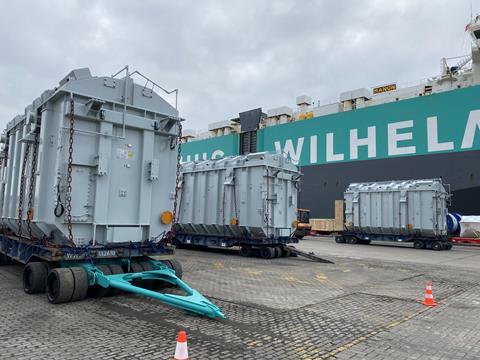 Saudi Arabia is a buoyant market for logisticians and Bahri Logistics has felt the benefits of the widespread redevelopment under way as part of the country's Vision 2030 strategy. "We are basically a virgin country, redeveloping power plants, chemical plants, refineries, desalination facilities," he said, noting that a huge amount of construction equipment is also coming into the country. One of the most striking projects is new city 'Neom' – and USA-based Bechtel is the largest single EPC on the ground there at the moment. Bahri's liner services and its logistics capabilities have been key in helping to assist with mobilising assets to this megaproject, and there is potential for more going forwards. "We will invest in some equipment in Saudi Arabia on the logistics side, SPMTs, hydraulic crawlers… we want to show commitment to the market."
Wallenius Wilhelmsen expects to see continued high utilisation across its entire fleet, the three trades likely to be the busiest being Europe to Oceania, Asia to North America, and Europe to North America. Wendt said that shipments to Oceania include railcars as governments invest in public transport to improve mobility in urban areas. Raw material price increases are also driving an influx of mining equipment shipments to the region.
Shipments to North America from Asia and Europe are largely being driven by the infrastructure legislation that has created demand for construction machinery, energy transitions that create demand for renewables energy cargoes and transformers, and investments in auto manufacturing facilities that require machine tools, he explained.
The CII and EEXI performance measures for ships will rapidly ratchet up in intensity as the years progress. Wallenius Wilhelmsen's Ödling said it set a 2019-2030 carbon intensity reduction target of 27.5 percent for its fleet, which follows a reduction of 33 percent from 2008 to end 2018. "There is a large overlap between the measures we take to reach our 2030 target and those needed for CII – which is only natural." Its CII efforts, which are "embedded in our overall sustainability and shipping strategies", fall into three main categories: "mechanical and technical upgrades – including hull and propulsion systems; operational improvements – including using data and machine learning to enhance the performance of our vessels; and asset renewal – CII parameters will be key in the overall design of any new vessels."
Data is livestreamed to 80 vessels, a measure that it hopes will cut fuel consumption by 10 percent. "These technological tools help foresee sailing conditions with great precision when correlated with weather forecast updates," he said. "We have also undertaken a major project over the last year to prepare our fleet for EEXI compliance within the upcoming due date in 2023. This has involved all our vessels where we have installed solutions to limit the maximum power output of the main engines. The EEXI regulations will cap the top speed of our vessels and thereby also cap the associated peak fuel consumption," Ödling explained.
Wallenius Wilhelmsen has kept its powder dry in the newbuild market although progress is being made and announcements on newbuild strategies will be forthcoming. "What we can say is that we are only going to invest in vessels that will take us to net zero. We see the transition to future fuels taking place in three main stages – starting with the wider use of biofuels to reduce emissions, then changing over to methanol, and then finally ammonia in approximately 10 years from now," said Wendt.

Wind-powered ro-ro
Moreover, in January, Orcelle Wind secured EUR9 million (USD9.95 million) from Horizon Europe to support the construction of a new wind-powered ro-ro vessel. Ödling said: "This project is a crucial part of our fleet decarbonisation strategy and the ambition is for the Orcelle Wind to commence sailing in late 2026 or early 2027. Part of the funding will go towards installing the wind sail test rig on an existing Wallenius Wilhelmsen vessel mid-2024."
Wallenius Wilhelmsen currently provides value-added logistics services in addition to port-to-port ocean transportation, and has done so for many years for core ro-ro segments such as automobiles and high and heavy equipment. "For example, we have port processing centres to prepare and inspect units prior being delivered to market."
Moreover, it has been about a year since Wallenius Wilhelmsen completed the full acquisition of Abnormal Load Services (ALS) – a non-asset-based logistics provider that specialises in oversized, out-of-gauge, exceptional and heavy lift cargo shipments. "ALS' network of partners and suppliers allows us to offer more integrated logistics solutions for these types of heavy cargo," said Wendt. "We are also investing in technology tools that can assist in managing all legs of the supply chain, while providing visibility and predictability."