Sarens has installed a 1,100-tonne railroad culvert in Norway in a transport and installation operation lasting just 34 minutes.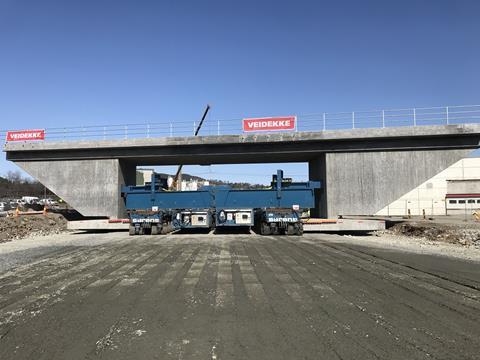 Sarens performed the work in cooperation with its client Veidekke Entreprenør in support of a motorway extension project managed by NyeVeier.
The highway connects the cities of Oslo and Trondheim and as part of the expansion project, Veidekke Entreprenør manufactured the 1,100-tonne concrete crossing next to the tracks in Brumunddal. Sarens was tasked with moving it from the construction area into its final position.
The timeline for this operation was particularly sensitive, said Sarens, as the railroad owner had allowed only a 93-hour window to complete the works. This window included time allocated for all civil works, leaving Sarens with a brief two-hour time slot for transport and installation.
Working closely with the client, Sarens performed an engineering study to ensure that all details were accounted for and to minimise the risk of any delays or incidents. The client implemented modern tools, including 3D scanning and real time 3D modelling, as part of this process.
When the time came, Sarens transported the culvert using 38 axle lines of Kamag K24ST SPMTs alongside in-house developed modular and cantilever beams, which were positioned in recesses along the culvert walls. This allowed for quick setup and removal after the culvert was placed in its final position.
The operation took place in mid-April, with the transport and installation, as well as the removal of all equipment and personnel, lasting just 34 minutes.