Sarens has performed the load-in, transport, load-out, and installation of 24 modules for the client APTIM in Lousiana, USA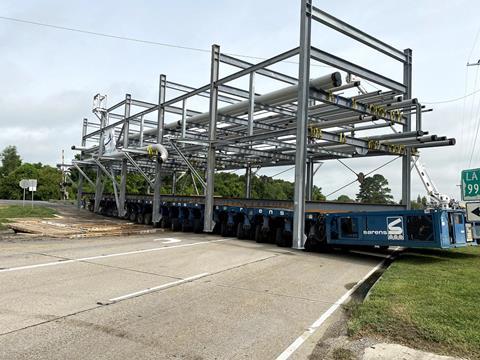 Shintech Louisiana invested USD1.49 billion to develop a chloralkali and vinyl chloride monomer production plant and expand the Plaquemine PVC manufacturing site. Recently completed, the plant is capable of producing 860,000 tpy of vinyl chloride monomer (the raw material of PVC) and 660,000 tpy of caustic soda.
At Sarens, we were commissioned by our client APTIM to undertake the transport of 24 pipe rack modules from the fabricator yard through Lake Charles to Plaquemine, Louisiana, USA. The maximum dimension of the module was 30.7 m x 13.4 m x 13.7 m. As part of the project Sarens had to:
Transport the modules from fabricator's yard.
Roll-on the modules in Lake Charles, Louisiana, USA onto the barge and transport to Plaquemine.
Roll-off the modules in Plaquemine Louisiana USA.
Transport the modules over the road, 11 miles (17.7 km) over 2 days including a sugarcane field.
Finally set the modules on anchor bolts at the Shintech VCM 3 plant.
The team deployed:
100 lines of SPMTs
Two 76 m x 16.5 m Barge
The major challenges during the project were:
Working within the time constraints by the different local authorities and the client.
Constructing a temporary 24.3 m bridge in the sugarcane field to reach the destination.
The project manager, Kevin Upton said, "Over 2500 laminated mats were placed in the sugarcane fields to improve the road condition allowing the smooth and safe transport of the modules. Our team did an excellent job and we are so proud of the project."

Sarens' mission is to be the reference point in crane rental services, heavy lifting, and engineered transport. With state of the art equipment and value engineering, the company offers creative and intelligent solutions to today's heavy lifting and engineered transport challenges. With more than 100 entities in 65 countries operating without borders, Sarens handles small-scale to mega-scale projects. It currently employs 4,452 professionals. Safety and excellence are key drivers for Sarens and the company strives daily to establish a safe space for everyone and everything related to its operations. Sarens has been the market leader for over 60 years; over four Sarens family generations are intimately involved in the business. Sarens continues to build the future on the foundations of its rich past and ensures that its clients will always stay ahead of the game when it comes to heavy lifting and engineered transport innovation.