4D Supply Chain Consulting is now offering face-to-face training at its office in The Woodlands, Texas, USA.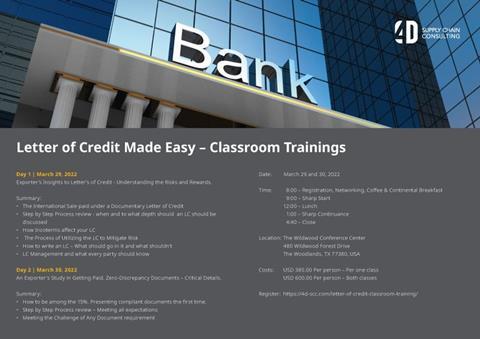 Face-to-face training courses had been on hiatus as a result of pandemic-related lockdown restrictions. 4D is offering its two-day Letter of Credit Classroom Training course, which provides a solid foundation in the knowledge and application of Letter of Credit (LC) rules backed by real market case studies and scenarios.
The course runs on March 29-30 and more information can be seen here.
The first day, on March 29, 2022, focuses on exporters insights to letter of credit. It covers:
The international sale paid under a documentary LC
A step-by-step process review – when and to what depth should an LC be discussed
How Incoterms® 2020 affect your LC
The process of utilising the LC to mitigate risk
How to write a LC – what should go in it and what shouldn't
LC management and what every stakeholder should know.
The second day, March 30, 2022, is entitled 'An exporter's study in getting paid – how to create zero discrepancy LC documents at first presentation'. It covers:
What needs to be on your documents and what doesn't.
Important rules that should never be broken
Debunked "rules" that are can be the difference to a quick payment or delays or non-payment
How to create 'every' document that any LC may require
How to endorse negotiable documents properly
How to address unreasonable LC document requirements
To identify potential unlawful document request