Dutch shipbuilder group Damen has launched the fully electric RSD-E Tug 2513 into the water at its shipyard in Song Cam, Vietnam.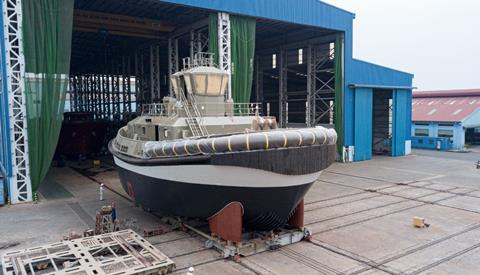 Damen is building the RSD-E Tug 2513, which has 70 tonnes of bollard pull, for New Zealand's ports of Auckland to support it in achieving sustainability targets – including its goal to being a zero emissions organisation by 2040.
The next stages of construction of the tug – to be named Sparky – will see Damen install the vessel's innovative hardware.
Sjoerd de Bruin, sales manager Damen Asia Pacific, said: "With 40 percent of New Zealand's energy being generated from sustainable sources…Sparky offers the chance to complete the sustainable circle in ports of Auckland's tug operation."
Damen has its own sustainability goals. The company said it aims to become the most sustainable shipbuilder by ensuring that its products environmentally clean and that the processes by which it makes them are optimally efficient.
Sparky is scheduled to be delivered to the ports of Auckland at the end of 2021.