Abu Dhabi Terminals has formed an alliance with Microsoft that will enhance its container tracking and autonomous shuttle capabilities at Khalifa Port.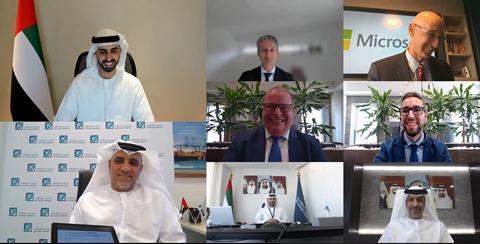 A memorandum of understanding (MoU) was signed in the presence of Omar bin Sultan Al Olama from the UAE Ministry of Artificial Intelligence.
The partnership, according to Abu Dhabi Terminals, heralds the next phase in the digital transformation of Khalifa Port and will see the deployment of the artificial intelligence services of Microsoft's Azure cloud computing platform.
Abu Dhabi Terminals said that the technology, deployed in partnership with Microsoft Consulting Services, will fuel the introduction of AI-based container smart tracking solutions that will ensure 100 percent traceability of all handled containers, as well as the potential to launch an autonomous vehicle system.
Ahmed Al Mutawa, ceo of Abu Dhabi Terminals, added: "By driving innovation through the implementation of Artificial Intelligence and automation, Abu Dhabi Terminals is committed to modernising our port environment, while also dramatically reducing our carbon footprint, and costs, as well as turnaround times for those accessing Khalifa Port."