Heavy-load specialist P. Adams Group has utilised three rotor blade transport systems (RBTS) provided by TII Scheuerle to transport 24 rotor blades from the port of Uddevalla to the Knöstad wind farm in north-east Sweden.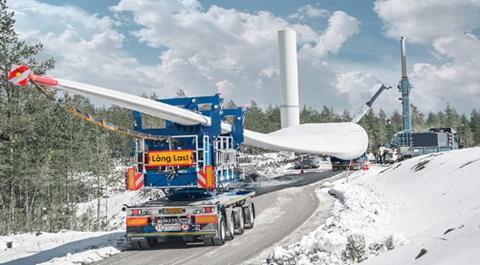 The 83 m-long, 30-tonne blades were transported 170 km by road route on a tractor-trailer combination measuring 96 m in length and weighing 65 tonnes in total.
The route to the site included numerous bends, steep gradients and unpaved roads. According to P. Adams, the Scheuerle RBTSs were selected based on their ability to operate a lateral compensation feature which can shift loads to the left or right depending on the situation. The RBTSs consisted of a two-axle jeep dollied together with a free-turning device and a four-axle trailing unit.
"After the first major deployment, we are very satisfied with the jeep-dolly trailer combination" said Stephan Adams, managing director of P. Adams.