One Air has been awarded its air operators' certificate (AOC) by the UK Civil Aviation Authority (CAA), marking the launch of the UK-based all-cargo airline.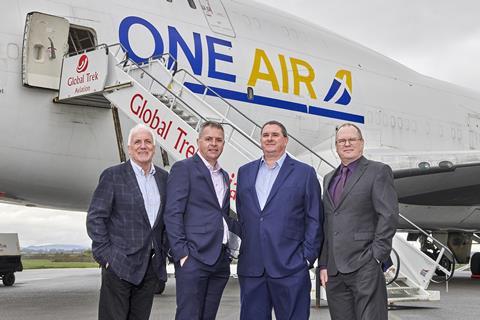 The airline has dry leased its first Boeing 747 freighter, with plans to add a second B747F during 2023. One Air expects initial demand for flights from the UK to Europe, the Middle East and Asia. It intends to offer freighter services to China and the USA in the future.
Headquartered in Kingston, close to London Heathrow, One Air has recruited a team of 90 air cargo and aviation professionals for its launch, including ground operations, engineering and maintenance, crew training, crew management, finance and HR specialists, and a 40-strong air crew with pilots recruited from Cathay Pacific, Emirates Airline, Norwegian Airlines, and other major carriers.
One Air is majority-owned by ceo Paul Bennett, who said: "The important role freighter services played in supporting the UK economy and the public throughout the pandemic demonstrated the level of demand which exists for a British cargo airline. We are proud to be meeting this need and to have the opportunity to leverage longstanding business relationships with freight forwarders, logistics providers, and charter brokers serving the UK market. We expect to add our second B747F later this year and have the financial resources to grow in line with the level of demand we see."
The airline will review its fleet plans, including the potential for other aircraft types, later in the year.
Chris Hope has joined the board of One Air as chief operating officer and accountable manager, bringing 35 years of experience with the forerunners to TUI as well as easyJet and Flybe.
He said: "Over the past two years, the cargo market in the UK has clearly shown resilience in the face of unprecedented disruption to the aviation industry. Now the industry is entering a new phase of recovery and growth and we look forward to being at the heart of this."
Jon Hartley and David Tattersall have also been recruited as chief financial officer and chief technical officer respectively.
Hartley has over 25 years of experience in financial management roles and extensive experience across several business sectors, including previous aviation experience with TAG Maintenance Services and FR Aviation. Tattersall has over 40 years of experience in aviation engineering, maintenance, overhaul, and repair. During his career, he has held senior executive roles at director level at major airlines including British Airways, Brymon Airways, and Flybe.