The port of Argentia, Canada, has secured its second major contract in support of US offshore wind energy developments, and Mammoet is positioning equipment at the gateway.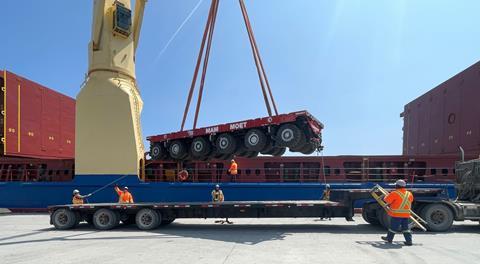 The gateway will act as a monopile marshalling yard for US offshore wind projects under way on the USA's Eastern Seaboard. Port ceo Scott Penney said: "Previous port infrastructure investments will continue to position Argentia as a strategic location to capture other oversized transport and storage projects in the renewable energy and other industrial sectors for generations to come."
Monopiles will be transported to a bonded storage marshalling yard on the former naval air station runways in the Argentia Northside Industrial Area by SPMTs, before being loaded aboard heavy lift vessels.
In preparation for the arrival of monopile foundations, the port of Argentia will continue to see investment upgrades exceeding USD10 million on infrastructure improvements including additional road widening, maintenance of current infrastructure and creation of 3 acres (1.2 ha) of new laydown lands adjacent to docking facilities, bringing total quayside laydown in excess of 12 acres (4.6 ha).
Crane components, ramps, lifts, and SPMTs from Mammoet are already being positioned at Argentia in advance of monopile arrivals this summer.
Earlier this year, the Dutch transport engineering and heavy lift provider said that it had been awarded two contracts for offshore wind projects in the USA. As part of the contracts, Mammoet will be responsible for onshore work for the wind projects, both of which begin in 2023.
The contract scope covers the load-in, load-out, handling and temporary storage of monopiles as well as the pre-assembly of turbines in a US marshalling port.
"Offshore wind in the USA has been a long time coming. Our Mammoet colleagues have been executing these projects globally for some time, so this is an exciting opportunity to leverage the combination of our technical experience with our local market experience," said Rick Bohne, Jr., director of sales and marketing for Mammoet in the USA and Mexico.