FourKites has outlined the impact of the Covid-19 lockdowns in China on the global supply chain.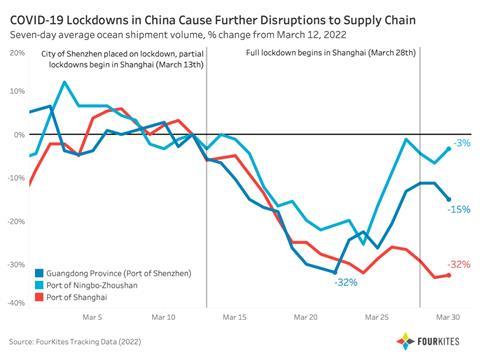 The supply chain visibility platform said that following the full lockdown of the city of Shenzhen on March 13, there was a 32 percent reduction in ocean shipment volumes in Guangdong Province, where Shenzhen is located. There was a similar decrease at the port of Shanghai, where partial Covid-19 lockdowns went into effect around the same time.
As lockdowns have lifted in Shenzhen, FourKites has seen a recovery in ocean volumes in Guangdong Province, where the seven-day average ocean volume is now down only 15 percent when compared to before the lockdowns went into effect.
Meanwhile, the port of Shanghai is seeing significantly reduced ocean volumes, where the partial lockdowns turned into full lockdowns on March 28. Seven-day average ocean volumes through the port of Shanghai remains impacted, now down 33 percent when compared to March 12.
Due to the lockdowns, some shippers are diverting goods away from the port of Shanghai to other nearby ports, such as the port of Ningbo-Zhoushan. At Ningbo-Zhoushan, seven-day average ocean volumes are up 21 percent week-over-week, though is still down 3 percent when compared to earlier in March.
Road and intermodal shipments out of Shanghai are also trending downwards since the lockdowns went into effect. As of March 30, the 14-day average shipment volumes being picked up from Shanghai is down 17 percent when compared to March 12.