DEME has installed the first offshore substation at the Saint-Nazaire offshore wind farm in France.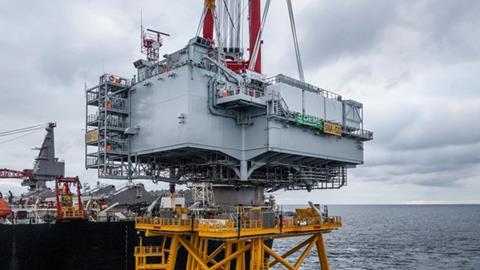 Installed by the vessel Pioneering Spirit, the substation measured 15 m x 27 m x 39 m and tipped the scales at 2,100 tons (1,905 tonnes). The jacket measured 26 m x 26 m x 48 m and weighed 1,250 tons (1,134 tonnes).
A consortium of Chantiers de l'Atlantique's Atlantique Offshore Energy business division, GE Grid Solutions and DEME Group's French subsidiary SDI constructed the electrical substation. DEME Offshore carried out the transport and installation, including the offshore pre-piling works.
Chantiers de l'Atlantique is responsible for the topside and jacket foundation design, manufacturing and commissioning. GE Grid Solutions is responsible for the high voltage electrical equipment and protection control systems design, manufacturing and commissioning.
Bart De Poorter, general manager DEME Offshore Renewables, said: "The construction and installation of the offshore substation is the result of strong cooperation between the consortium members… As a result of this cooperation, we were able to design, fabricate and install the offshore substation in only 26 months, which is an incredible achievement and testament to the collaboration with our partners."
The 480 MW Saint-Nazaire offshore wind farm is scheduled to be operational in 2022 and, according to DEME, is the first commercial offshore wind farm installed in French waters.