The European association of abnormal road transport and mobile cranes (ESTA) is progressing with its SPMT training plans, with a meeting scheduled for October to decide upon its contents.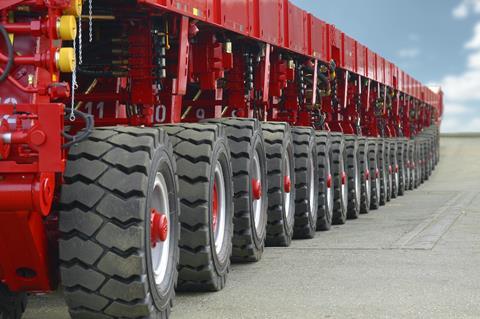 The October meeting of the SPMT working group will come to a final agreement on the contents of its SPMT operators' training regime.
The plans to develop a European Trailer Operators Licence (ETOL) for SPMT operators was put forward at the association's spring meetings in the Netherlands and were met with strong support from members. The upcoming autumn meeting will finalise some of the details of the scheme, which will follow the operational and management structure of the existing European Crane Operators Licence (ECOL).
ESTA director Ton Klijn said: "Around the world, we are still seeing far too many accidents involving SPMTs and we firmly believe that improved technical guidance coupled with properly regulated operator training are essential for the future.
"Common, professional operator training standards – using the structures developed for the European Crane Operators Licence – will not just raise safety and efficiency but will also help the industry recruit the operators it needs going forward."
The group's 12 member companies come from eight different countries, reflecting the widespread concern about SPMT standards across Europe. They include Collett, Cometto, DNV, Fagioli, Goldhofer, Mammoet, Sarens, Siemens Gamesa, Terra Navtica, Tii Group and Wagenborg.
The working group is also in the process of updating ESTA's 2016 SPMT Best Practice Guide, which was originally intended to help address the problem of trailers occasionally tipping over, even though the existing operating rules and stability calculations had been followed.
During the October meeting, the group will decide whether to adopt a new document on ensuring the stability of SPMTs.
Elsewhere in the organisation, ESTA's crane risk management working group is planning to produce new guidelines to help companies assess the risks involved in different types of work and give them advice on how to protect themselves using properly drafted terms and conditions.
The work will be aimed at smaller companies but is also expected to contain information for clients to help them manage projects safely and ensure that they give accurate and relevant information to their suppliers.
Klijn said: "Our approach will be to focus on certain key risks and to steer users towards other reliable sources of information. We will not be replicating work already carried out by other organisations but aim to act as a focal point for the available best practice."
ESTA is aiming for its work on crane risk management to be completed early next year with a report published in the Spring.