Ro-ro carrier Höegh Autoliners has partnered with Norwegian green energy provider North Ammonia for the supply, distribution, delivery, and consumption of green ammonia – a carbon free fuel produced using renewable energy.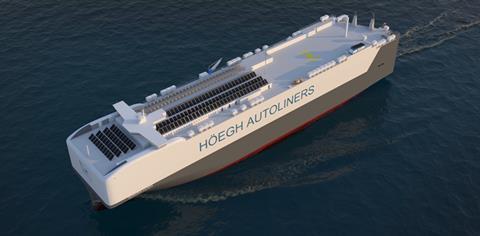 The green ammonia is destined for Höegh's eight ammonia-ready dual-fuel Aurora-class vessels. As part of the Aurora newbuilding programme, the shipping line expects to take delivery of two of the vessels every six months starting from the second half of 2024.
Designed to carry up to 9,100 cars, the Aurora-class vessels also feature strengthened decks and enhanced internal ramp systems that enable electric vehicles to be carried on all decks and provide more flexibility for heavier project cargo.
The partnership, Höegh said, will enable it to meet its commitment to powering at least 5 percent of its deepsea operations with green ammonia by 2030 and its aim of consuming at least 100,000 tonnes of green ammonia within its fleet by the same year.
"We are proud to partner with an ambitious Norwegian green ammonia supplier to transition towards a more sustainable future. This collaboration will not only reduce our environmental impact and carbon footprint. It will also set a new standard for the industry as a whole and assist our partners and customers in decarbonising their supply chain," said Höegh Autoliners' ceo, Andreas Enger.

Sebjørn Dahl, coo, added: "The fact that green ammonia is becoming a totally viable maritime fuel is a game-changer for our industry. We believe it will set the standard for others to follow. I thought this development would be achievable in 10 years' time. But technology is moving faster than expected and the future is here."