Hutchison Ports has signed an agreement with the Royal Commission in Jubail and Yanbu to invest and operate JCPDI port in Saudi Arabia.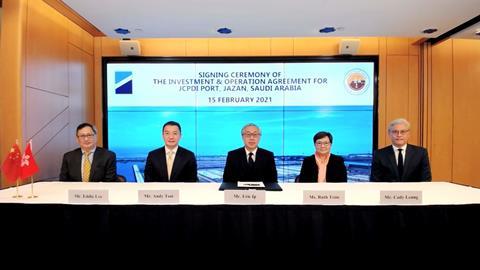 Located within the Jazan City for Primary and Downstream Industries (JCPDI), the port is strategically important to China's Belt and Road Initiative and is Saudi Arabia's closest port to East Asia. Hutchison Ports said JCPDI is considered a major gateway to Saudi Arabia's southern region and is expected to support economic growth while also serving eastern and southern Africa.
To be developed over two phases, the multipurpose port will consist of a container terminal, alongside a general cargo and dry bulk terminal. Each will have quayside draft of 16.5 m.
Commercial operations of Phase I will launch this year, starting with the general cargo and dry bulk terminal. With a berth length of 540 m, this facility will serve the immediate needs of the growing list of JCPDI tenants, said Hutchison Ports.
The first stage of the container terminal is expected to start commercial operations in early 2022 and offer 730 m of berth.