The port authority of Bilbao will invest approximately EUR35 million (USD35.5 million) this year, as the Spanish port focuses on increasing sustainability and improving accessibility.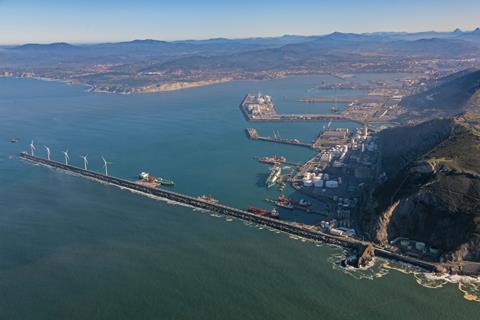 The extension of Dock AZ1 is one such project. Work to create 50,000 sq m of new surface area and a wharf of 251 linear metres is already under way, with a scheduled completion date for the spring of 2023.
Other projects include equipping its container, ro-ro and cruise terminals with onshore power supply facilities for berthed vessels, with the aim of reducing greenhouse gas emissions by 40 percent while cutting vibration and noise levels. The works will be tendered out in several construction phases, with the first call scheduled for the end of 2022.
In July, the Spanish Administrator of Railway Infrastructures (ADIF) put out to tender the works contracts for a new 750 m long siding at Orduña station, designed to expedite railfreight activity between the port of Bilbao and inland Spain and, at the same time, to benefit passenger trains.
The track, electrification, control and signalling works have been put out to tender in two contracts for a total amount exceeding EUR10.87 million (USD11 million), with a project deadline of 10 months. The works will be financed by the port authority (EUR3.8 million) through the Port Land Accessibility Fund, and the rest by ADIF.
The private sector is also investing in the port. Over EUR250 million (USD253 million) has already been invested or committed to undertake projects on decarbonisation, alternative energy forms and to attract new strategic business.
In May, Petronor/Repsol began work on its decarbonisation hub at the Punta Sollana quay. The facilities will include a plant for the production of synthetic fuels, construction work on which is scheduled to take two years. In addition, an urban waste recovery project will be launched with the aim of obtaining low-carbon energy from urban waste. This project paves the way to put the Basque Country on the map for generating green hydrogen, said the port authority.
Haizea Wind Group, meanwhile, has requested an extension of some 57,283 sq m to its facilities to be able to manufacture XXL monopiles. The project includes the construction of new industrial buildings as well as equipping adjacent storage areas for the parts produced at the plant. The company estimates an investment of around EUR150 million (USD151 million) in warehouses and machinery.
Other investments include EUR5 million (USD5.1 million) from Consignaciones Toro y Betolaza to extend its breakbulk and ro-ro terminal in Dock A6.