The keel has been laid for Jan De Nul's offshore heavy lift crane vessel Les Alizés at China Merchants Heavy Industry's (CMHI) shipyard in China.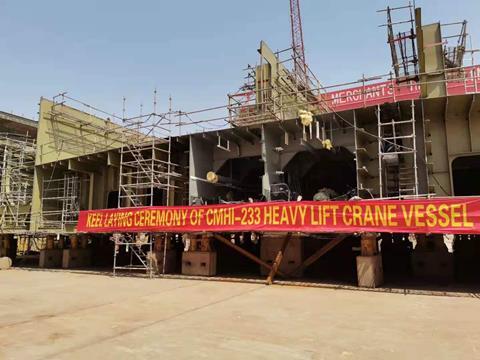 Together with the offshore jack-up installation vessel Voltaire, Les Alizés will be capable of building the newest generation of offshore wind farms from 2022, Jan De Nul said.
Les Alizés will be equipped with a 5,000-tonne capacity crane and several innovations designed to minimise its environmental impact.
One such innovation is an advanced dual exhaust filter system that removes up to 99 percent of nanoparticles from emissions using a diesel particulate filter (DPF) followed by selective catalytic reduction system (SCR). The vessel will also feature an onboard Energy Storage System that optimises engine operation and reduces fuel consumption and emissions.
The vessel will also have a Cleanship NDO7 and Green Passport EU label.