New Jersey Governor Phil Murphy has announced a USD250 million investment to develop a a state-of-the-art manufacturing facility at the Paulsboro Marine Terminal that will be used for the construction of wind turbine components.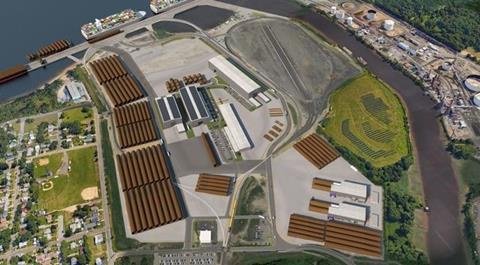 The facility is the largest industrial offshore wind investment in the USA to date. Construction will break ground in January 2021, with production beginning in 2023.
The manufacturing facility at the Paulsboro Marine Terminal will accompany the development of the New Jersey Wind Port, which was announced during June 2020, and will provide a base for monopile manufacturer EEW.
Senate president Steve Sweeney said: "Wind energy is our future - it's clean, it's safe, and it offers the opportunity for New Jersey to be a dominate leader in creating a new sector to our economy. Bringing offshore wind manufacturers to New Jersey is key to making the state a hub of the supply chain for wind energy products and services.
"The new headquarters for EEW will locate a leading manufacturer of monopiles to the Paulsboro Terminal, where it will help make the port a thriving centre of commerce. The collaboration between the public and private sectors to get this done is a powerful reminder of what we have to do to create economic opportunities and what we can do to promote offshore wind energy."
The manufacturing facility will support the construction of New Jersey's first offshore wind energy development – Ørsted's Ocean Wind project. David Hardy, ceo of Ørsted Offshore North America, said that this announcement represents "a significant milestone" for the project, and for New Jersey's offshore wind goals.
The investment has also been welcomed by the South Jersey Port Corporation (SJPC). Andrew Saporito, executive director and ceo of SJPC, explained: "This new public private project positions our ports as the epicentre of the rapidly growing offshore wind energy projects, both in New Jersey and along the East Coast.
"This partnership represents a pivotal next step for the development of the Paulsboro Marine Terminal. It will bring jobs to the region during the construction of the facility and new highly-skilled full-time jobs to staff it upon completion, as well as additional jobs for waterfront labor responsible for handling the associated cargo and completed monopiles."