USA-based Omega Morgan has replaced and installed an autoclave in Arlington, Washington State.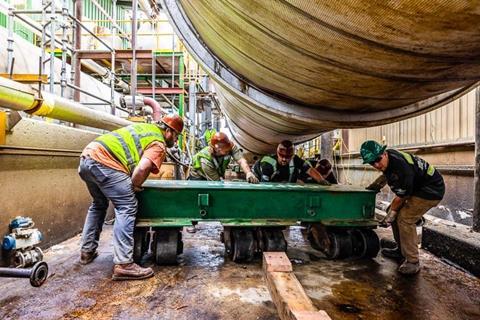 The work was completed for a telephone pole pressure treatment company. The original autoclave measured 45.7 m long, 3 m wide and weighed 72.5 tonnes, while the heavier replacement weighed 104.3 tonnes.
Over several months, Omega Morgan's machinery moving, specialised transportation, and crane teams planned the moves, with a key focus of minimising downtime for the customer.
The location of the pit where the component was to be installed posed a challenge as it was located under a barn. Over three days the team removed the original autoclave by using jacks, skates, and cribbing which lifted it from the pit before being pulled out with a tri-lifter and SPMT.
At the manufacturing site in Sandy, Oregon, the transport and crane teams lifted and placed the replacement autoclave onto a dual trailer using its 200-ton (181-tonne) and 350-ton (317.5- tonne) cranes, and then transported it to Arlington over three days.
Once onsite, Omega Morgan installed the autoclave into the original space using a jacking and sliding method, taking six days to complete the operation.