Four ZPMC super-post Panamax cranes are en-route to Northwest Seaport Alliance's (NWSA) Terminal 5 in Seattle Harbour.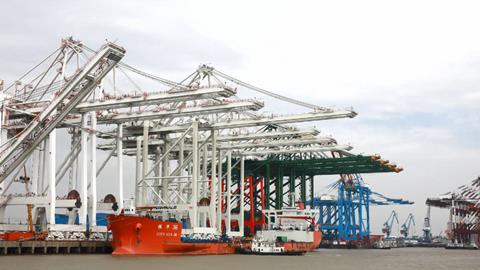 The cranes departed Shanghai in China on Zhen Hua 36 on Sunday May 23. They have an approximate 30-day voyage before arriving at the terminal, which is currently undergoing modernisation works.
At a height of 316 ft (96.3 m) with a 240 ft-long (73 m) outreach, the cranes will be capable of handling the world's biggest container vessels. The units will be owned and operated by SSA Marine. NWSA said that works at Terminal 5 are scheduled for completion this year.
Fred Felleman, port of Seattle commission president and NWSA co-chair, said: "The voyage of the ZPMC cranes to the Puget Sound marks a major milestone for the completion of Terminal 5 and will provide a major lift toward making our gateway more competitive ­­­­­­- bringing more cargo, jobs, and economic opportunity to our region."
The NWSA invited the public to watch the voyage here.