An Enerpac SyncHoist system is being used for the installation of concrete beams across rail tracks in the eastern part of Paris.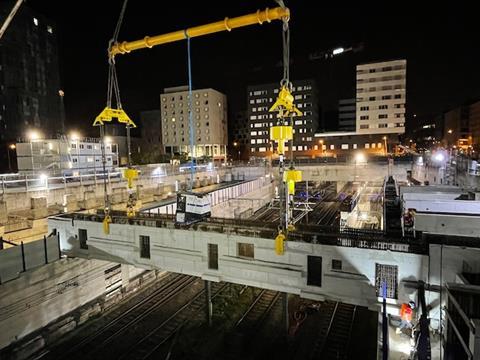 Chantiers Modernes Construction, part of VINCI Construction France, has deployed the equipment for the MV10P project, which aims to create 10,000 sq m of space above the tracks for office, residential and commercial premises, as well as hotel facilities.
Over the next two years, a total of 100 beams weighing up to 215 tonnes and measuring up to 26 m long, 2.5 m wide and 3.5 m deep will be positioned by lifting cylinders suspended beneath a spreader beam lifted by an LR 1600 crane, provided by the Mediaco Levage Group.
"Benefits of using the Enerpac SyncHoist for this project include the ability to stabilise the beam by monitoring the load on each hoist, evaluate the load on the lifting rope slings and the ease of manipulating the beam to achieve an accurate, level positioning," said Enerpac. The SyncHoists are controlled wirelessly, allowing the operator to work at a safe distance and oversee the entire hoisting job.
Jonathan Marin, project manager at Mediaco Levage Group, added: "Safety is our first consideration when planning a lift. We especially liked the way the SyncHoist's wireless operation allows us to evaluate and control the beam's stability, as well as achieving the precise positioning required for this project."