A plan to create a trade corridor of multimodal industrial hubs along the Welland Canal in Niagara, Canada, has progressed with the establishment of the Thorold Multimodal Hub.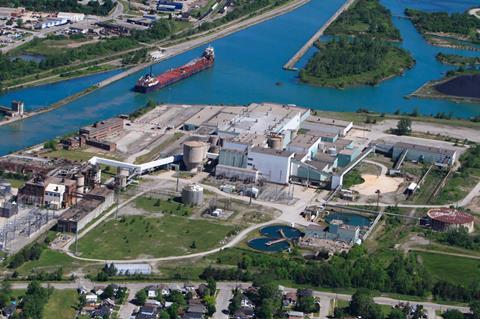 The Thorold Multimodal Hub offers extensive facilities suited to a variety of industrial operators.
The industrial complex has more than 500,000 sq ft (46,451.5 sq m) of indoor warehousing facilities, and 200 acres (80.9 ha) of outdoor storage and material handling space.
The multimodal port comprises space owned by the Hamilton-Oshawa Port Authority (HOPA Ports), as well as a 155-acre (62.7-ha) former paper mill recently purchased by Bioveld Canada, which specialises in the repurposing of brownfield and industrial sites.
The new major regional facility will be managed by HOPA Ports, through its subsidiary Great Lakes Port Management.
Available spaces include warehousing sites, a truck dock and bays, a train shed and manufacturing shops, as well as a wood shop, auto shop and offices.
HOPA Ports added that the spaces within the hub feature infrastructure to reduce transportation costs and boost efficiency, and multimodal connections for industrial tenants. HOPA Ports also said its team will provide on-site property management and development services.
Jeremy Dunn, commercial vice president at HOPA Ports, said: "Companies locating here will benefit from the proximity to the USA border, the availability of marine and rail, and strategic location in the Niagara-Hamilton-Toronto trade corridor."
HOPA Ports and Bioveld Canada said this investment the Niagara region is a step towards a more efficient and integrated network of marine facilities in Ontario. Other port hubs in Port Colborne and Welland are currently in conceptual stages.