Total throughput at the port of Antwerp fell by 4.9 percent in the first half of the year compared to the same period of 2019, as the effects of the Covid-19 crisis took hold. The first signs of recovery, however, are now visible.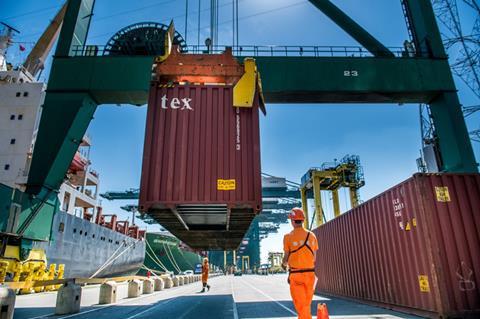 The breakbulk segment, according to the port, was already experiencing the adverse affects of global trade issues from mid-2019. This culminated in a 29 percent decrease in volume for the period of January-June, compared to the same period of 2019, with inbound and outbound flows being affected to the same extent.
The throughput or iron and steel experienced a total decrease of 33.1 percent for the first six months of the year. In June, however, throughput rebounded slightly and the segment experienced its best month of 2020 so far.
Propped up by shipments of pharmaceutical products, e-commerce and health foods, container traffic increased in the period January-June 2020, despite the effects of cancelled sailings from April onwards.
For the third quarter, the port of Antwerp expects more blank sailings, but said that it is also seeing the first signs of recovery and an upturn in the European economy.
Jacques Vandermeiren, the port's ceo, said: "Port of Antwerp is a world port that follows the pace of the European and world economy. The impact of the shutdown of the global supply chain due to the coronavirus crisis has been felt from the second quarter onwards and will affect the total throughput of goods this year.
"The port of Antwerp is holding up well in the Hamburg-Le Havre range because it is active in many sectors, it is not dependent on a single continent and because of its role as Europe's largest integrated chemical cluster."