Mexico-based heavy transport specialist Tradelossa has moved 6,000 tons (5,443 tonnes) of equipment for two internal combustion power plants (ICCP) from the port of Ensenada to sites in Mexicali and San Luis Rio Colorado.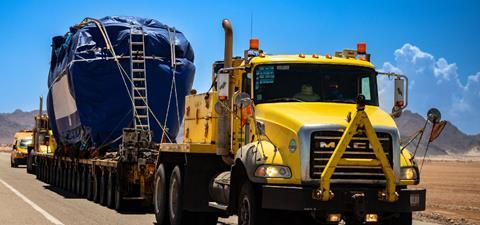 In total, Tradelossa will deliver 46 dual engines and six generators across a total of 6,200 miles (9,978 km).
21 out of 24 components have been delivered to the 400 MW Mexicali Oriente power plant in the state of Baja California. Cargoes measured up to 12.7 m long, 3.8 m wide, and 4.4 m tall, with a weight of 210 tons (190 tonnes).
16 of the 22 dual engines have been delivered to the 200 MW Parque Industrial power plant in San Luis Rio Colorado in the state of Sonora. The cargo measured 13.3 m x 3.3 m x 4.6 m and weighed 140 tons (127 tonnes).
At the port of Ensenada, Tradelossa unloaded and secured the components onto a 19-axle hydraulic configuration using the company's gantry and strand jack lifting equipment, with a payload capacity of 550 tons (498 tonnes).
Tradelossa said it expects to complete its project scope in November 2022, handling nearly 8,000 tons (7,257 tonnes) in total.
Managed by the Comisión Federal de Electricidad (Electric Federal Commission/CFE) the power plants will provide 600 MW of energy to both states – Baja California and Senora – alongside other northern regions near the Mexico-USA border.