United European Car Carriers (UECC) has added Cuxhaven, Germany, to its Baltic service.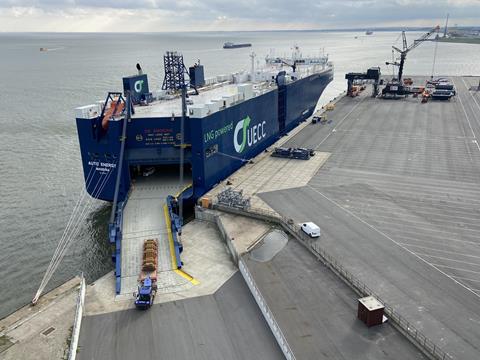 UECC said that in the deepwater port, various imports coming from Russia and also Finland are unloaded and dispatched to the European hinterland. In addition, there are regular UECC services from Cuxhaven to the UK and other network ports of the shipping company, such as Zeebrugge.
The two LNG-fuelled ro-ro carriers – Auto Energy and its sister Auto Eco – are used in weekly rotation. The members of the Cuxhaven Port Association (HWG), BREB and Cuxport manage the port calls of the 181 m-long and 30 m-wide car carriers.
Both ships are equipped with ramps that can take up to 160 tonnes of heavy cargo.
As part of the UECC Baltic Service, the two ships call at Cuxhaven coming from St. Petersburg in Russia and Hanko in Finland.