Van Oord has ordered an offshore installation vessel that will be able to operate on methanol and be capable of installing wind turbines of up to 20 MW in size.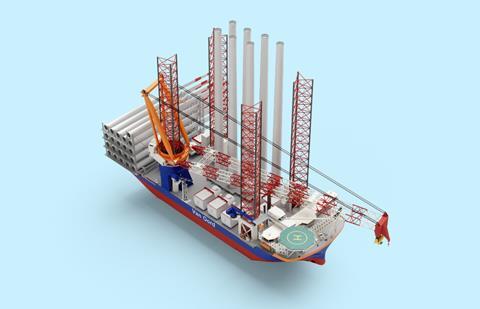 The ship is being built by Yantai CIMC Raffles shipyard in China and is designed by Knud E Hansen. It is expected to enter the market in 2024 and will sail under the Dutch flag. Van Oord has also taken an option on a second vessel.
The 175 m-long offshore installation vessel will be purpose-built for the transport and installation of foundations and turbines. It will feature a Huisman crane capable of lifting more than 3,000 tonnes.
Four legs, each measuring 126 metres, will allow the vessel to be jacked up and work in waters up to 70 m deep. This investment is part of a EUR1 billion (USD1.2 billion) fleet investment programme over the next five years.
In line with Van Oord's commitment to reducing CO2 emissions, the vessel will be able to run on methanol, which will reduce the ship's CO2 footprint by more than 78 percent. It will also be equipped with an advanced active emissions control technology to reduce the NOx emission to an absolute minimum. An installed 5,000 kWh battery pack can take the peak loads and regenerate energy to reduce the fuel consumption (and corresponding emissions) even further.