Poland's Szczecin and Świnoujście Seaports Authority (ZMPSiŚ) and Orlen Neptun, PKN Orlen's offshore wind energy development company, are progressing with the construction of a wind energy terminal.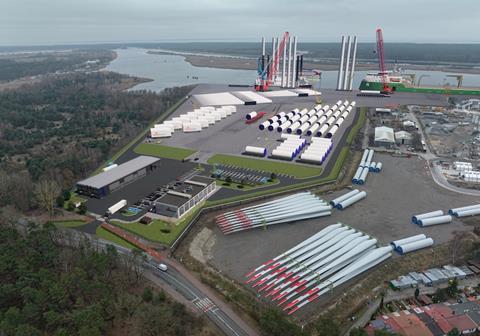 The terminal will support the installation of offshore wind farms. Two new quays will be built, while the fairway from Mieleńska to the terminal will be deepened.
In the onshore part of the investment, for which Orlen Neptun is responsible, new storage areas will be built for towers, blades and nacelles, spanning a total area of approximately 17 ha. Other infrastructure, such as a new administration and office building, will also be built.
The installation terminal in Świnoujście will be one of the most modern terminals in Europe, said ZMPSiŚ. Each of the two available berths will allow for the pre-assembly of wind turbine towers over 100 m high and weighing approximately 1,000 tonnes each. The 250 m-long berths will be able to accommodate the largest specialist jack-up vessels available today.
ZMPSiŚ added that it expects the terminal will be first used for the installation of components of the Baltic Power project, and then for the implementation of further investments in the Baltic Sea. The port in Świnoujście, thanks to its location, will be able to offer services not only for Polish investments, but also for projects in German, Swedish and Danish waters.
The terminal is expected to become operational at the turn of 2024 and 2025.