Russia's invasion of Ukraine in 2022 and subsequent substantial cuts in natural gas exports prompted an immediate surge of international interest in LNG and demand for related new production capacity and import/export facilities. However, that uptick could be a flash in the pan rather than indicative of long-term shift, writes Phil Hastings.
While presently there is a significant expansion of LNG operations in some parts of the world, a belief that upturn may be relatively short term is likely to make many producers and service providers reluctant to invest in long-lifespan projects.
"Investing in LNG remains a complex value proposition, as there is a near-term need for additional capacity but far less certainty about future requirements, especially as an unprecedented wave of around 170 billion cu m of new capacity is due online between 2025 and 2027," said the International Energy Agency (IEA) in its World Energy Investment 2023 report. It also warns that the proliferation of LNG projects due to come online in that period raises the possibility of cost inflation as multiple projects compete for a limited pool of specialised contractors "and the deadlines for some of the approved projects may well slip further into the latter part of the 2020s".
Two prominent examples of new LNG capacity due to come online in the 2025-2027 period are the massive USD30 billion North Field Expansion (NFE) development in Qatar and the approximately USD31 billion project to build Canada's first LNG export facility.
First production
Qatar's NFE is due to start production before the end of 2025 and increase the country's LNG export capacity from a current 77 million tonnes per year to 110 million. A second phase, North Field South, due to be completed in 2027, should boost that figure to 126 million tonnes.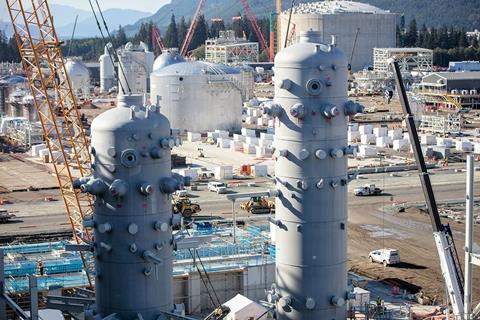 A recent progress update from LNG Canada (a joint venture involving five global energy companies) said work on the first phase of the export facility in Kitimat, British Columbia, which will produce 14 million tonnes a year, is 85 percent complete. A target date for the start of export shipments was set at around 2025. LNG Canada is also currently weighing up whether to build a second phase to double annual capacity to 28 million tonnes.
Medium-term outlook for LNG
Sadhini Silva, manager – project key clients for JSL Global Qatar, which is working for some of the EPC contractors involved with the NFE development, believes there will continue to be strong demand for LNG, at least in the medium term. "Global energy demand growth over the next few decades will be substantial and LNG supplies will be essential to meeting that demand," she argued.
"Even though the long-term demand regarding LNG projects is more uncertain due to market unpredictability, in the short-to-medium term, Qatar is most likely to benefit as its products are well-positioned to benefit from that demand."
Silva suggested that the present investment focus on LNG is likely to have implications for heavy lift/project forwarding business opportunities and capacity in the overall downstream oil and gas market as companies look for the expertise to handle the challenging logistics of those projects.
Global energy demand growth over the next few decades will be substantial and LNG supplies will be essential to meeting that demand. – Sadhini Silva, JSL Global Qatar
Meanwhile, she added, the current NFE development is creating a "huge demand" in Qatar for heavy lift operators and project logistics providers.
Colin Hindley, global sector head, international oil companies, DHL Industrial Projects, explained that Europe was the primary driver behind the increase in LNG demand last year as it pivoted away from Russian gas supplies. LNG cargoes delivered to Europe increased by 63 percent in 2022, he said, although that was on the back of reduced demand from Asia, especially China (due to ongoing Covid-19 lockdowns).
European demand
Irakli Tsankashvili, group ceo of Georgia-headquartered international freight forwarder Logistics Solutions and its heavy transport and lifting subsidiary LS Heavylift, agreed that Europe is currently the main source of increased demand for LNG. "I cannot say there is any huge increase or decrease in demand for LNG in our region (Caucasus/Caspian)," he commented.
"In my opinion, the present international increase in LNG demand is coming more from EU countries, and whether that demand remains or declines will depend on the situation in Ukraine and future natural gas supplies to Europe."
Hindley suggested that for the next several years the global LNG market is expected to see further "modest supply additions", despite the significant North Field projects in Qatar, as European nations continue to import significant LNG volumes to replace Russian pipeline gas.
"In the context of LNG project development, as a logistics provider we need to be agile enough to respond to likely short-term requirements for a limited extension of material supply," he added.
Short-term growth
Colin Charnock, group ceo, Trans Global Projects (TGP), voiced similar observations. "We do expect a short-term increase in LNG projects requiring heavy lift capacity and forwarding services," he commented. For instance, he continued, "it is almost inevitable" that TotalEnergies, a major French global energy company, will restart construction work on its USD20 billion LNG project in Mozambique – suspended two years ago due to security concerns – in the near future.
Charnock believes there will be longer-term global demand for LNG, with resulting further new projects. "The world's gas reserves are plentiful and global demand for energy is growing. It seems unlikely, therefore, that energy companies will not build more processing capacity in future to utilise those resources."
Hindley is more cautious about the long-term picture for LNG. He pointed out that the global Institute for Energy Economics and Financial Analysis (IEEFA) is anticipating that weak supply growth and robust demand will keep global LNG prices "structurally elevated" for several years. "High prices will put sustained downward pressure on Asian demand growth, particularly among price-sensitive emerging markets that were widely expected to be the primary drivers of global LNG demand," he said.
"As high prices continue to alienate Asian buyers, European policymakers are moving to reduce gas consumption, driven by the triple imperative to cut energy costs, bolster energy security and meet emissions reduction targets." The overall result, suggested Hindley, is that despite Europe's short-term LNG "buying frenzy" to replace lost pipeline imports from Russia, climate and energy initiatives are likely to cause LNG demand growth on the continent to stabilise and reverse later this decade. "Therefore, we expect a softening in future investment in LNG dictated by energy economics."
The present increase [in LNG demand] is resulting in higher demand for heavy lift capacity and forwarding services. – Mike Schoofs, Kuehne + Nagel
Mike Schoofs, global head of renewable and energy logistics for Kuehne + Nagel, echoed those sentiments regarding the LNG sector's prospects and said that the present increase "is resulting in a higher demand for heavy lift capacity and forwarding services".
Further opportunities
He further suggested that with the construction and commissioning of LNG terminals, liquefaction plants, storage facilities and associated infrastructure all requiring the transportation of large and heavy components, "that will surely create further opportunities for heavy lift and project logistics".
However, he added: "The present increase in LNG activity may be driven by geopolitical circumstances, which together with market volatility, evolving energy transition goals and the emergence of alternative energy sources, could result in companies being cautious about investing in large-scale, long-lifespan LNG projects."