A multitude of developments witnessed over the course of the past decade have forced airlines and charter brokers to become increasingly resourceful in order to meet the requirements of a project logistics sector that has grown ever more complex.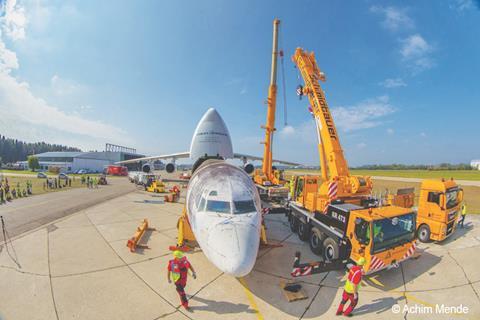 Over the past ten years, the heavy lift airfreight sector has been dominated by two outsize airlines operating both AN-124 and IL-76 aircraft – Russia's Volga-Dnepr Airlines and Ukraine-based Antonov Airlines. In 2006 – just a year before HLPFI launched its first edition – Volga-Dnepr and Antonov created Ruslan International to jointly market their combined AN-124 fleets to customers around the world.
Although there have been a handful of other airlines operating AN-124s for commercial use, Ruslan International led the project cargo market. However, tensions between Volga-Dnepr and Antonov began to grow in 2014, after Russia's intervention in Crimea.
In September 2016, Ukrainian media reports suggested that Antonov had severed all ties with Russian enterprises, including its long-term partner, Volga-Dnepr airlines.
HLPFI reported late in 2016 that Volga-Dnepr Airlines and Antonov airlines had confirmed that Ruslan international was to end on December 31, 2016.
After the dissolution of the joint venture, Volga-Dnepr stated that it would continue to operate and sell space on its fleet of an-124s, with Antonov providing technical support. Antonov airlines announced that its team in the UK would take on the global sales and operations of the company's fleet of AN-124s.
In 2016, Dennis Gliznoutsa, then vice president of development and special projects at Volga-Dnepr (pictured right), said: "We have the advantage of the experience we gained from the end of our AN-124 joint venture with Heavylift Cargo airlines in 2001, and the subsequent growth of our outsize and heavyweight cargo business in the international market. We emerged from that joint venture stronger and now, 15 years later, we will do so again."
No doubt the termination of Ruslan International has resulted in a changed market for project forwarders and shippers that have used the two airlines, with new structures and staff to become acquainted with. There were rumours that rates had suffered huge declines since the two airlines had parted ways, but both companies denied these reports.
As well as the changes that have been witnessed at the two main AN-124 operators over the past decade, the arrival of the new Boeing 747-8 freighter into the marketplace in 2011 also had a significant effect on the makeup of the global freighter fleet and consequently on the business of moving project cargo around the world by air. Airlines such as Cargolux and AirBridgeCargo Airlines (ABC) have continued to market the capacity of their B747-8F fleets to transport oversize cargoes, as well as standard freight.
Outstanding aircraft
Throughout the years we have also seen one of the most outstanding aircraft (and a behemoth of project cargo delivery by air) – the AN-225 – transport a variety of exceptional cargoes across the world. The aircraft can move a 200-tonne payload a distance of 4,000 km and first took to the skies in 1988. In 2016, an agreement was signed between Antonov Company and the Aerospace Industry Corporation of China (AICC) to put the AN-225 back into production. The decade has also seen countless reports that a new version of the AN-124 was about to commence production.
The wider heavy lift airfreight sector has also seen its share of casualties. Jade Cargo, the joint venture between Shenzhen Airlines, Lufthansa and Deutsche Investitions- und Entwicklungs-gesellschaft (DEG), was wound up in June 2012, sending a chill down the spines of those who saw the expanding sector as hope for the future.
Another high-profile casualty was Polet airlines. In april 2015, Russia's federal air transport agency, Rosaviatsiya, cancelled Polet's air operator's certificate (AOC) following a dispute with the Moscow arbitration Court.
In 2008, Maximus Air Cargo, based in Abu Dhabi, was forging its path utilising eight AN-124-100s, an Airbus A300-600RF, an IL-76TD and a Lockheed Hercules L382G, which were in operation across the Middle east, Europe, Africa and Asia. In subsequent years, Maximus established itself as one of the leading carriers in the outsized and specialist air cargo segment. Today, with a fleet of one AN-124 and two Ilyushin IL-76s, it is a smaller player in the market.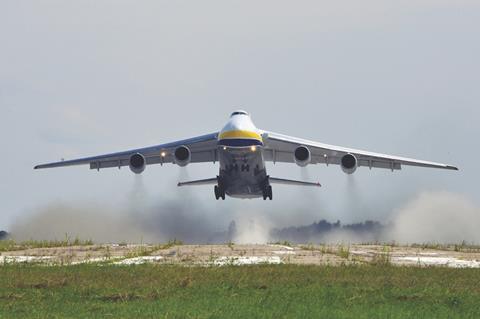 Critical role
The volume of heavy and oversize cargo moved by air is dwarfed in comparison to that moved by road, sea or rail. That, however, does not undermine the critical role that airfreight plays in the project logistics supply chain.
For example, the cost of lost production at an oil rig, or the penalty for a deadline missed, means that expedited delivery of cargoes by air can save a customer millions of dollars.
However, air cargo brokers now need to be more creative in finding ways to reduce costs for customers, said Dan Morgan-Evans, group cargo director at air Charter service (ACS). "We need to think outside the box more than we did ten years ago. it used to be that customers simply asked us to find an aircraft for their cargo and they would pay whatever it cost. Now it is more and more consultancy work where we look at a range of options – maybe a combination of scheduled and charter, or a different airport and longer trucking, to find the most efficient option."
He said another change has been more direct approaches by shippers. This sentiment was shared by Pierre van Stichele, group cargo operations director, Chapman Freeborn Airchartering: "We did not and do not approach the shippers ourselves, but they came to us. Now we have a mix of forwarders and shippers as customers. Sometimes it can be a delicate balance between the two, but we definitely did not work to cut the forwarder out," he said.
The Baltic Air Charter association (BACA), an air charter brokers' association based at the Baltic Exchange in London, believes that the procurement process undertaken at large shippers has become smarter in recent years.
"We need to think outside the box more than we did ten years ago."

- Dan Morgan-Evans, Air Charter Service
"For instance, you will find that the procurement and logistics teams are working closer together. sometimes this is driven by cutbacks in staff so one person is given more tasks. Or it can be a conscious effort at streamlining and looking at the total cost of sourcing so that it includes both purchase price and delivery to site," said Dave Edwards, chief executive.
The direct approach by shippers has been driven primarily by financial concerns as a result of the global economic downturn and falling oil prices.
Volga-Dnepr Airlines launched its Cargo Supermarket to increase the range of services it offers to customers. Alexander Kraynov, commercial director, charter said: "This can be anything from the design and manufacture of a special frame to make it possible to load and transport a complex or highly sensitive piece of cargo, right the way through to a full choice of end-to-end logistics services, including ocean freight, trucking, packing and repacking, insurance, crane hire and help with documentation, permits and Customs clearance."
He said that consultancy forms a significant part of the work, citing the example of a new liquefied natural gas (LNG) processing plant in the southern highlands of Papua New Guinea. "From the time of the customer's initial enquiry, it was five years before we operated our first flight. In the meantime, we were part of the consultancy team that constructed a new airport in the Papua New Guinea highlands so that our AN-124-100s could provide an 'airbridge' that was so critical to the success of the project."
For the oil and gas sector, the reduction in commodity prices also created a slowdown in charter requirements, albeit with a delayed effect as committed projects were completed. "During this period, we saw the defence sector increase, and this provided an important bridge for us for much of the recession," explained Michael Goodisman, business development director, Antonov airlines UK.
Today, Antonov's largest sector is aerospace. "We have developed a real expertise in satellites, for example. They are very valuable and have very specific requirements, with lots of procedures that need to be followed closely. Our AN-124 crews have a lot of experience in this sector so satellite companies are confident to use us," he stated.
Aerospace has also been Volga-Dnepr's fastest-growing sector over the last ten years and now accounts for 30-35 percent of its annual business. Humanitarian relief has also proven to be a lucrative source of work for both airlines.
Human interaction
Technology has had a huge impact on the logistics sector in the last ten years, but there is general agreement that it is not as influential in the heavy lift air cargo sector.
BACA said online bookings in the passenger and commercial jet sectors have taken the market by storm. "There have been discussions for a long time now as to whether that can be adapted for project cargoes and air charter. There could be an appetite for that, but it is quite difficult to implement because there are so many variants that have to be looked at, checked and discussed when dealing with outsize cargo…Human interaction is needed when it comes to out-of-gauge movements by charter," Edwards said.
Goodisman said that technology improvements have helped with Antonov's cargo load studies. "Our load planners do use 3D models [images] of large, complex-shaped cargoes and manipulate them within the 3D model of the Antonov's cargo cabin. Computer processing speeds are much faster now, so our load planners perform 3D stress analysis of spreader frame designs – checking flight G forces – much quicker than it was possible to do ten years ago."
The major sectors providing heavy lift airfreight opportunities –aerospace, oil and gas, power and energy, heavy machinery, humanitarian and government –are the same today as they were ten years ago.
"There is resilience in terms of demand. Some industries outperform others at certain times, but the demand for specialist outsize and heavyweight air cargo solutions has proven to be not only a sustainable but a growing market," said Kraynov.
Although most people seem cautiously optimistic that global economic conditions are gradually improving, they also agree that shippers will remain highly focused on price. So how does the higher cost airfreight sector continue to attract the heavy lift and project traffic?
Goodisman summarised: "often the cost of lost production at an oil rig or factory, or the penalty for a deadline missed, is greater than the cost of airfreighting the necessary part. They just ask if they will save money – or even customer loyalty – overall."
A LOT OF HOT AIR?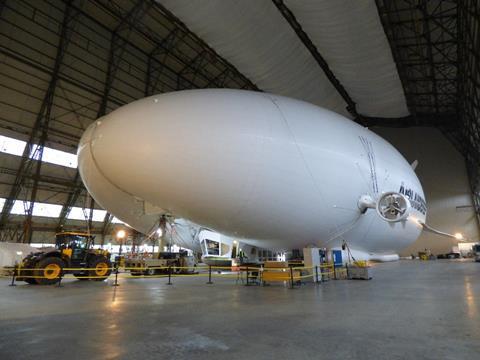 The potential application of airships in the heavy lift and project logistics arena has been a common theme of HLPFI's editorial coverage. In 2008, Boeing agreed on a joint venture undertaking with Canada's SkyHook International. The venture planned to develop a 90 m-long airship-helicopter- hybrid, capable of carrying 40-tonne loads up to 200 miles (322 km).
The blimp-chopper never entered into commercial service. However, in 2012, the US army tested the Long Endurance Multi-intelligence Vehicle (LEMV), a hybrid airship system for surveillance applications, developed by Northrop Grumman in cooperation with Hybrid Air Vehicles (HAV). The 100 m-long airship was able to fly at altitudes of more than 6,000 m for a three-week period, carrying a payload of around 1.5 tonnes.
Today, various aerospace developers have built on these foundations and are preparing to launch giant airships for the commercial sector in the coming years.
The proposed advantages of airships include being able to access ever-more remote regions, or those hit by humanitarian disaster. the helium-filled balloons are able to land and takeoff on flat terrain, without the need for extensive ground infrastructure. Environmental advantages also work in the airship's favour. In 2010, HAV planned to launch three cargo versions of its airship – with cargo payloads of 20, 50 and 200 tonnes.
Come September 2016, after four years' effort to secure type certification, the prototype Airlander 10 completed its first test flight; the second test was not as successful, with a heavy landing damaging the aircraft. It went from bad to worse in December 2017 when Airlander 10 broke its moorings, triggering a safety system that deflated the craft.
In 2016 we saw Skeleton Technologies join forces with Flying Whales to build a 60-tonne capacity airship, dubbed LCA60T, with industrial production scheduled for 2021. Aeros has also been developing its Aeroscraft, with 66-tonne and 250-tonne payload capacity vehicles scheduled to enter service by 2023.
In 2016, Straightline Aviation (SLA) signed a letter of intent to purchase up to 12 Lockheed Martin LMH-1 hybrid airships. By mid-2017 Hybrid Air Freighters (HAF) had also signed a letter of intent to purchase up to 12 LMH-1s, which have a 21-ton (19.1-tonne) cargo payload.
The potential of airships is undeniable. However, the technology clearly still has some way to go before it wins the hearts and minds of the market.