"We realise that the world of project shipping is changing rapidly."

Svend Andersen, BBC (in 2017)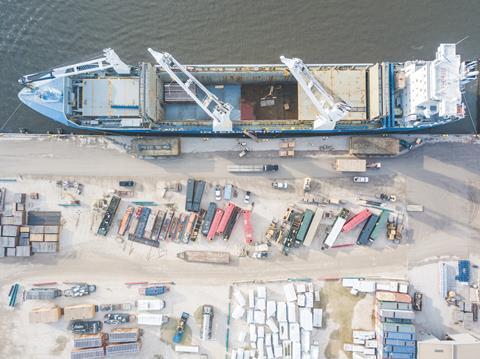 Many words could be used to sum up the past ten years of project cargo shipping. Perhaps "uncertainty" is one that has most often been employed by industry executives and HLPFI as we have tried to summarise the state of the business over recent years.
HLPFI launched its first Ships & Shipping Lines supplement in 2011, which introduced a number of topics that have continued to shape the sector, including pressure on rates as container, ro-ro and bulk lines seek a piece of the project cargo pie, nervous times in the semi-submersible market, tumbling demand and an oversupply of tonnage combining to force rates down and play havoc with margins, plus the growing threat of piracy.
Drewry's lead analyst for multipurpose shipping, Susan Oatway commented in 2011: "Competitive threat is a major concern for the multipurpose sector, but reacting in an innovative manner, which we can see happening already within the project cargo arena, is how carriers are going to capitalise on market conditions."
In 2012, Oatway continued to analyse the growing trend towards containerisation of project and breakbulk cargoes. "A number of the major lines have invested in open top or flatrack containers, designed specifically to carry the heavy, awkward cargoes that used to be the preserve of the project carrier fleet. Lines have told us they are aggressively marketing this service."
This aggressive marketing has continued until today, as container rates have fallen to record lows and lines have looked for alternative cargoes to boost revenues. But container shipping has been subject to its own shift, with consolidation resulting in a significantly altered industry now than we saw ten years ago.
With the turn of the century, the multipurpose shipping sector was about to experience a 'golden decade' with global economic growth driving a surge in demand for heavy lift and project cargo transportation services.
However, the economic slowdown post-2008 and the subsequent hostile operating environment has resulted in a multipurpose sector that is today almost unrecognisable from the heydays of the mid-2000s.
Behaving themselves
In 2011, HLPFI wrote that "the heavy lift shipping boys and girls need to start behaving themselves, and fast". We added: "Investors with short-term shipping interests are skewing a sector where hefty mortgages and steep operating costs are set against a turbulent backdrop of overcapacity, and a market at best jittery, at worst shrinking or stalled." These are themes that have continued to pervade the sector for the past ten years, and there have been casualties along the way. It remains to be seen whether the industry will learn from its past mistakes if it enters a period of recovery in the next decade, but there is no doubt that this is an industry that has proved itself resilient in the face of adversity.
In the first edition of HLPFI, published in November 2007, we reported that Kawasaki Kisen Kaisa ("K" Line) and SAL group inaugurated their joint heavy lift shipping operations, following the Japanese shipping company's purchase of 50 percent of the Germany-based line's shares from the Heinrich and Rolner families, which had owned and managed SAL since 2001.
Striking a deal
In 2011, "K" Line exercised an option to purchase the remaining 50 percent stake in SAL and become full owners of the line. Ten years later – as reported in HLPFI's September/October 2017 edition – SAL has returned to German owners, with "K" Line striking a deal to sell the multipurpose shipping line to Bremen-based Harren & Partner, which also owns Combi Lift. Although the value of the transaction was not disclosed, industry analysts suggested that it would be nowhere near the price that "K" Line originally paid for the German entity back in 2007. "K" Line said that SAL had struggled since the 2008 financial crisis and started with profitability depressed by low oil prices, which impacted on demand for heavy lift shipping services from the energy sector.
"Is the Beluga debacle an isolated incident, or a warning shot over the bows of an industry just beginning to feel the true ramifications of a recession which hit the rest of the world three years ago?"

HLPFI (in 2011)
The story of SAL and "K" Line is just one of many that HLPFI has followed with interest for the past ten years, as the global financial crisis and several other factors have changed the face of the multipurpose shipping market. Perhaps the largest and most memorable of the bankruptcies in the past ten years is that of the Beluga group in 2011, along with an investigation into some of the company's suspended management, including founder Niels Stolberg, on suspicion of fraud and incorrect accounting.
Warning shot
HLPFI asked: "Is the Beluga debacle an isolated incident, or a warning shot over the bows of an industry just beginning to feel the true ramifications of a recession which hit the rest of the world three years ago?"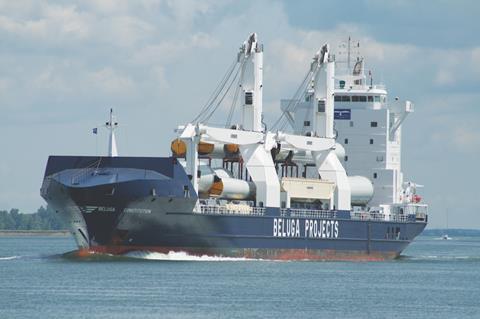 Since we first put pen to paper, HLPFI has reported on a number of mergers and bankruptcies in the multipurpose sector, as well as a handful of new shipping lines launched. From Beluga's ashes, a new player in the heavy lift shipping arena was born. in May 2011, US-based private equity firm Oaktree Capital Management, the principal shareholder of Beluga group, established Hansa Heavy Lift as a new and totally independent shipping company.
Since the sinking of Beluga, HLPFI has continued to follow the fate of its founder, Stolberg, whose trial still rumbles on. Meanwhile, Hansa Heavy Lift - which inherited most of its staff and ships from Beluga – has continued to keep its head above water in a challenging market.
As the multipurpose sector rode the crest of a wave in 2007, we reported on a new shipping service set up by Flamar and Oldendorff Carriers, dubbed OXL (Oldendorff eXpress Lines). Eight years later, Flamar and OXL filed for bankruptcy. At that time, Thomas Daenens, ex-chartering director, said that Flamar and OXL were not the first to file for bankruptcy since the downturn in the multipurpose sector, "nor will we be the last".
Daenens was not wrong. In 2016, Dutch multipurpose shipping company Flinter went the same way, and another Dutch operator, Abis, followed suit.
Back in the first edition of HLPFI, we reported on Hamburg-based breakbulk, heavy lift and project cargo specialist Rickmers-Linie placing orders for ten new multipurpose vessels, to be delivered between 2009 and 2011. Ten years later, the well-known Rickmers-Linie brand has also faced stormy waters.
Struggling in the wake of a weak multipurpose market, low freight rates and the declining oil business, the Rickmers group – which was established in 1834 and is one of the most recognisable names in the shipping business – filed for insolvency in June of 2017.
Relative newcomer
The group's heavy lift shipping business had been saved earlier in 2017 when Bremen-based Zeaborn group – a relative newcomer in the project cargo market, established in 2013 by ex-BBC Chartering executive Ove Meyer and financial specialist Jan-Hendrik Többe – took over the business operations of Rickmers-Linie. As part of the deal, Zeaborn also assumed control of MCC Marine Consulting & Contracting as well as the project and chartering arm of Nordana (NPC Projects) which was itself acquired by Rickmers-Linie in June 2016. Rickmers-Linie has subsequently been rebranded as Rickmers-Line.
Back in 2014, the Maersk-Rickmers U.S. Flag Project Carrier joint venture, established in 2011 to provide project cargo shipping services using two newly-built multipurpose ships operating under the US flag, was discontinued.
Another carrier – Intermarine – announced in 2012 that it was merging its operations with Scan-Trans. At the time, then ceo of Scan-Trans, Lars Juhl, commented: "Consolidation is the key to success in our line of business, and Scan-Trans has been looking for the ideal partner for some time."
In a reflection of the anecdotal nature of the industry, we also reported in 2010 on rumours that Beluga Shipping was preparing to make a bid for Intermarine, but such speculation came to nothing.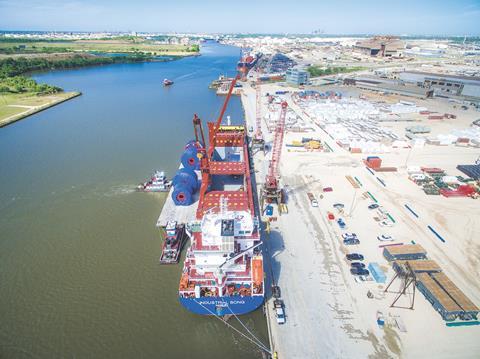 At the time of those rumours, Andre Grikitis, president and ceo of Intermarine, said: "There has never been such a disproportionate gap between high and low rates given in any market on a sustained basis as we see today. The chaotic nature of the current freight market is exacerbated by new entrants with scant experience and by others inadequately staffed to meet the complexities of our changing industry."
With the largest fleet (by number) of multipurpose project carriers, BBC Chartering celebrated its 20th anniversary last year and has navigated a relatively stable passage through the decade's troubled waters.
2017 saw BBC extend its hand to Jumbo Maritime, as the two companies agreed to an exclusive strategic cooperation –the Global Project Alliance – which will see both lines bid jointly on specific projects. At the time, BBC's ceo Svend Andersen said: "Jumbo and BBC Chartering make a great match… We realise that the world of project shipping is changing rapidly, and that our organisations need to focus on building strategic assets that will enable them to create value in the future."
Back in 2009, Asia Project Chartering – a joint venture set up by BBC and Clipper Projects in 2004 to provide commercial management of the two companies' ships while operating in and out of Asia, Australasia and the Middle East – was dissolved.
While BBC has held a steady course, the journey of one of its competitors was not so straightforward. in 2012, Clipper Projects created a new multipurpose pool along with founding members Enzian Ship Management and Freese Shipping, which was intended to form an integrated part of Clipper's multipurpose fleet. The pool initially comprised 14 vessels. The following year in June, it was announced that Clipper Projects was to merge with another Danish operator established in 2003, Thorco Shipping.
Then ceo of Clipper group, Kristian Morch, told HLPFI that the merger with Thorco was the "best way to ensure a profitable business and future growth in the current multipurpose market". in 2015, however, Morch stepped down from the board of Thorco Shipping, quoting differing views about the strategic direction of the company.
In 2016 Thorco and United Heavy Lift (UHL) made the decision to combine their respective fleets and expertise to create Thorco Projects. UHL had been set up in April 2015 by former SAL Heavy Lift executive, Lars Rolner, and immediately joined forces with Arkon Shipping & Projects, although that stopped following the tie-up with Thorco. Arkon has since worked closely with Intermarine.
Another industry player that has navigated these stormy waters is Singapore-based AAL, which has taken delivery of a new fleet of ships over the decade. The line also tried its hand at an alliance with Peter Doehle in 2015, before that was ended two years later.
Rise and fall
A company we have seen the rise and fall of over the past decade is Maersk-owned SafmarineMPV, which took delivery of its first multipurpose vessel in 2010.
We witnessed the growth of SafmarineMPV in the early part of its history, but by December 2015 it had sold its fleet of five multipurpose ships to Thorco Shipping and was planning to only operate chartered tonnage.
Its plans for recovery were short-lived and the line ceased all but its Europe-West Africa service in 2016, and subsequently sold that service to NileDutch.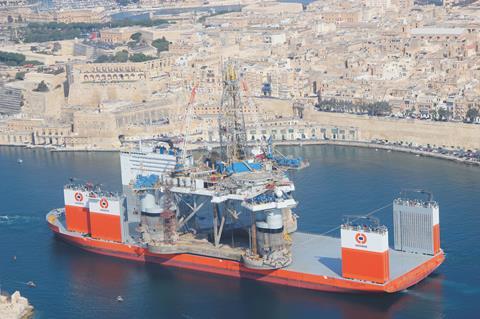 Heavy marine transport
There are relatively few players in shipping's heavy marine transport arena, but the operators of semi-submersible and heavy transport vessels have faced their own market uncertainties. Perhaps the most iconic development over the decade was the bitter takeover of Fairstar by rival Dockwise in 2012. Following a surprise bid in April 2012, Fairstar struggled to repel its assailant.
The then ceo of Fairstar, Philip Adkins, said that the bid was completely "out of the blue" and "a very poorly advised, opportunistic attempt to buy our ships and our orderbook at the lowest possible price", but the deal went ahead and Dockwise finally completed the acquisition in July 2012. Just a year later, Dockwise was itself acquired by Royal Boskalis Westminster.
Boskalis said that its offshore energy division, in which its Dockwise subsidiary is situated, has struggled in the low oil price environment. At the beginning of July 2016, Boskalis announced a fleet rationalisation programme that would result in 24 unspecified vessels being taken out of service over a two-year period.
However, demanding market conditions failed to dissuade Singaporean investor, Kenny Kai, from entering the semisubmersible heavy transport sector. GPO Heavylift's first 65,000 dwt semi-submersible newbuilding, GPO grace, was launched in December 2016. Three sisterships are scheduled to join GPO Grace in the coming years.
"Since the world is now experiencing unprecedented events, I expect the unexpected will be part of the near-term landscape."

Andre Grikitis, Intermarine.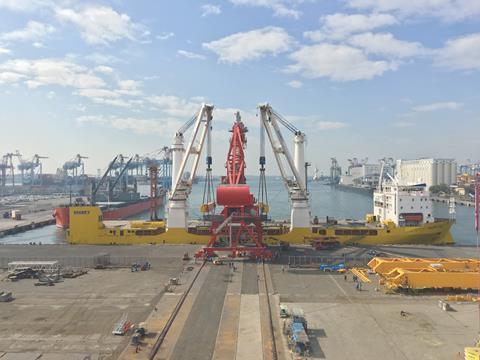 Adkins also returned to the fray in 2014 with the launch of ZPMC-Red Box Energy Services, saying that the new company would "focus on high-value niche markets in the offshore and onshore energy services industry where high standards require capital, technical skill, operational capabilities, client focus, dedication to safety and environmental stewardship."
Meanwhile, Cosco Shipping Specialized Carriers Co has continued to upgrade its fleet, with the launch of a number of newbuild module carriers over the past ten years, including what is claimed to be China's largest semi-submersible ship, Xin Guang Hua. The company reported that it now has eight semi-submersible ships, with loading capacities ranging from 20,000 to 100,000 tonnes and an average age of eight years.
Heavy lift specialist and part of the Spliethoff Group, Big Lift Shipping, made news in 2013 when it announced it was forming a joint venture with semi-submersible vessel operator Rolldock Shipping, dubbed BigRoll, to operate newbuild module carriers. In another representation of the cyclical nature of the heavy lift shipping business, however, 2017 saw BigLift Shipping end its cooperation with Rolldock and step away from the BigRoll joint venture.
Speaking to HLPFI in 2009, Grikitis forecast: "Since the world is now experiencing unprecedented events, I expect the unexpected will be part of the near-term landscape."
This has continued to ring true throughout the past decade, and HLPFI expects that the unexpected will follow us long into the future.