The ALS team in Hamburg has coordinated the transport of a second-hand Enercon E53 wind turbine from Germany to Ireland.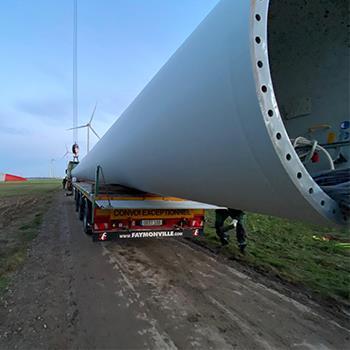 While adhering to strict Covid-19 regulations, travel restrictions and quarantine rules, ALS arranged for the smaller wind turbine components to be transhipped straight onto Mafi trailers at a Dutch port for shipment to Ireland, as well as the onward delivery to the final destination.
The larger components were transhipped directly onto trailers, as the dimensions exceeded the size that the Mafis could accommodate.
As a result of the pandemic, the drivers were not allowed to accompany the trailers on the shipping service. Instead, the drivers received up-to-date Covid-19 tests and flew out to the Dutch port to oversee the transhipping and securing operations. The drivers then returned to Ireland by plane, adhering to all required quarantine rules and regulations in the process.
Components varied in size, with some units measuring up to 26 m long, 4.5 m wide and 4.3 m tall and weighing 46 tonnes each.