HLPFI reviews the shortlist for the 2023 Project of the Year, sponsored by Blue Bell Shipping.
This award will be presented to a logistics provider for the successful coordination of a large-scale, complex logistics project, involving the door-to-door delivery of multiple oversize and/or heavy cargoes.
The shortlist for the 2023 Project of the Year award:
CJ ICM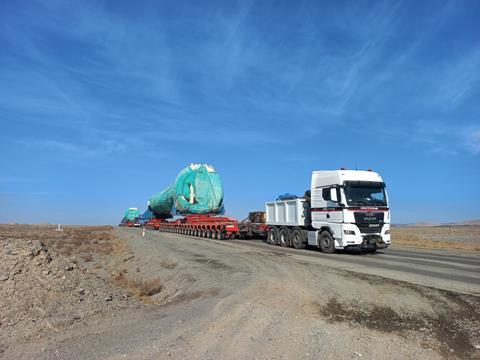 CJ ICM successfully completed the delivery of major components for a chemical complex in Uzbekistan, handling 61 heavy lift and OOG items – including a pair of 604-tonne absorbers. Originating in China, Italy, Romania, UAE, Spain, Netherlands, Malaysia, India and Romania. CJ ICM handled the project turn-key basis. The scope included: ocean carriage; transhipment operations from ocean vessels to river vessels and/or trucks; river vessel and barge transportation to the Caspian; plus the full suite of re-loading and transit clearance services ahead of the complex overland transportation leg of the project.
deugro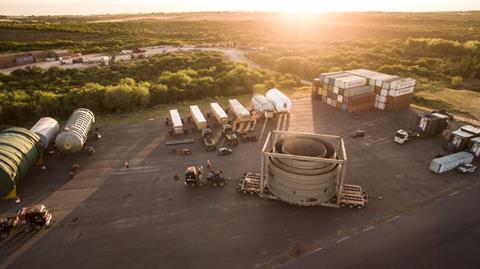 deugro made this year's shortlist for its role at the UPM Taurus project in Uruguay. Three and a half years in the planning, deugro China, Finland, Germany and Uruguay worked together to deliver 174 OOG items to a challenging project site. Extensive engineering and preparation was required for the move, which included moving cargoes through an existing paper mill, and bypassing a dam with a tricky ro-ro operation.
Drewes Logistics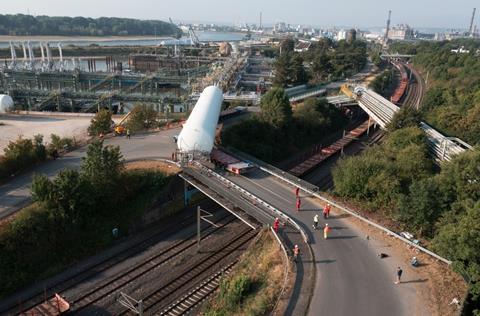 Drewes Logistics has been recognised for a project requiring 13,000 freight tons of cargo deliveries to the Shell DLNG project in Godorf, Germany – the main challenge being three storage tanks (50.65 m x 5.8 m x 6 m) weighing 246 tonnes. These were moved from Děčín (Czech Republic) to the site in an extremely complex multimodal move including river barges to Hamburg, coastal vessels to Antwerp, and inland waterway transport to Godorf river terminal. SPMTs took the tanks to the tree-encircled refinery, which required a tandem lifting operation by means of heavy-duty Liebherr crawlers to clear.
J M Baxi Heavy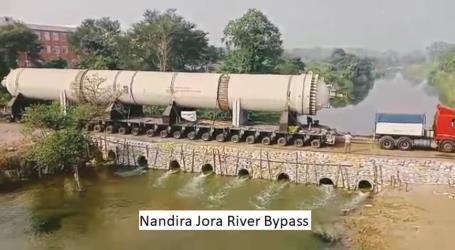 India's J M Baxi Heavy caught our judges' attention with the delivery of five oversize pieces (2,116 tonnes) originating on the west coast of the country, including a 600-tonne ammonia converter, to various states on the east. The items were destined for a power project and a fertiliser plant, and a refinery expansion. A lack of heavy lift vessel availability forced J M Baxi Heavy to devise a barge solution spanning some 3,695 nautical miles, including the Ganges River. The project also required the construction of jetties for discharging the items, long distance SPMT operations, along with final positioning onsite.
Kestrel Liner Agencies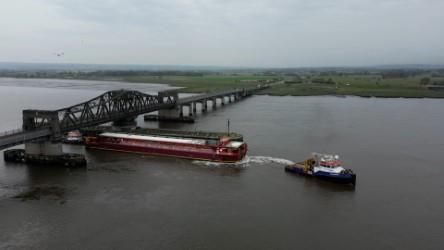 Kestrel Liner Agencies was tasked with transporting a complete factory from China to Alloa, Scotland, including a 57 m x 6 m cold box and 10 huge storage tanks. The project demanded creative thinking, a pioneering approach, detailed planning, extensive survey work, immense flexibility and sheer determination. Kestrel Liner Agencies opened a navigation channel on the River Forth in the process, 60 years after the last commercial vessel operated in that part of the Forth River.
Prism Logistics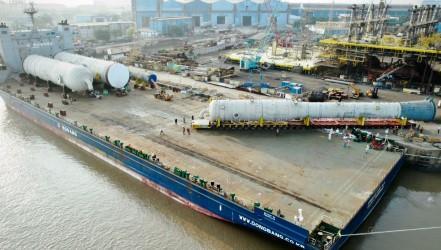 India's Prism Logistics shared a compelling story regarding its role on the delivery of equipment from Hazira, Dahej, and Mangalore to Rajasthan. 34 over-dimensional pieces were moved some 900 nautical miles by sea and 600 km by road, the largest and most challenging item being a 734-tonne piece measuring 55 m x 9.7 m x 9.7 m.
Rock-it Global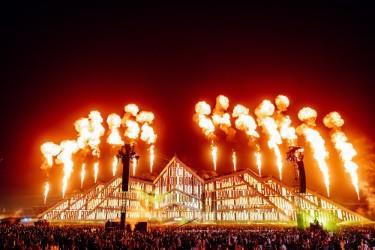 Rock-it Global showcased its role in setting up the MDLBEAST Soundstorm music festival in Riyadh, Saudi Arabia. It transported 11,000 tonnes of cargo in support of the event, which took place in December 2022. The just-in-time operation saw the team successfully orchestrate the movement of vast number of pieces from nine countries to the venue. A multitude of factors including coordinating shipments to coincide with performance and artist schedules, environmental challenges, and unexpected transit delays, had to be navigated for a smooth execution.
Trans Global Projects Group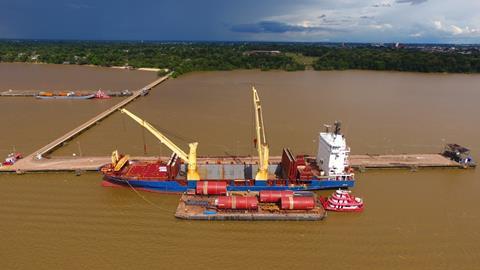 Trans Global Projects demonstrated its expertise in a complex, multimodal shipment with the delivery of 8,332 cu m / 1,582.69 tonnes of cargo for the Araguaia project – a ferronickel mine in Brazil – over a 10-month period. The cargoes – including rotary dryers, kilns and transformers – originated in China, South Korea and Italy and were shipped south of the Carajás mining district in Pará State. Barges were employed to expedite the shipment, which involved navigating tricky rivers that are not normally accessed by barges. Final delivery to the project site involved navigating poor road infrastructure in a densely forested area.
UTC Overseas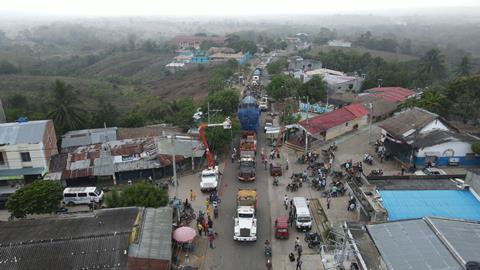 UTC Overseas transported the heaviest cargo ever mobilised on Colombian roads for the El Tesorito power plant. Designing a unique plan where the cargo could be shipped fully assembled, UTC's team coordinated the transport of 11 generators, three transformers and 11 fully assembled engines, along with 9,305 cu m of accessories and over 400 containers of related material. Adverse weather events, holiday congestion, covid restrictions and related supply chain disruptions all challenged the project, but UTC's team adapted quickly and always had alternate plans to ensure safe, on-time delivery.
The winner of this year's Project of the Year award will be announced at the Heavy Lift Awards 2023 ceremony on October 25 at the Royal Lancaster Hotel in London. To join the celebrations, book your space today.

Blue Bell Shipping L.L.C. is a specialist project freight forwarder and has been operating in the Middle East since 1987. In addition to its offices at key locations around the world (UAE, Iraq, Turkey, USA, UK), the BBS team has an in-house vessel chartering desk and transport engineering department. These value added services combined with an extensive portfolio of completed projects in the region (including work with most major oilfield operators and EPCs) are why clients continue to trust us with their more complex cargo movements. As a project freight forwarder the BBS team takes a bespoke approach to handling projects and completely aligns itself with the requirements of the end user or contractor.
View full Profile