The Airfreight Solution of the Year award was presented for an outstanding project cargo shipment that has been executed by air in the last 12 months. While competition was tough in this category, it was Blue Bell Shipping that rose highest to claim first prize.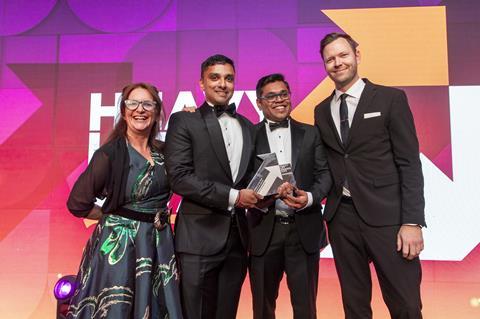 This year's line-up saw entries from Air Canada Cargo showcasing the transport of a 13.4 m IMAX screen from Toronoto to Quito for the premiere of the latest Avatar film; Chapman Freeborn highlighting the charter over 45 freighter flights to deliver humanitarian aid to Türkiye and Syria following two earthquakes in February 2023; deugro's work delivering 37 pipe spools from Thailand to the USA across nine charter flights; and Rolf Riedl, Antonov Airlines and Kita Logistics cooperation on the transport of a power supply skid from the factory in Türkiye via Tekirdag and Hamburg airports to Brunsbüttel in Germany.
Fracht Group's urgent delivery of a highly dense compressor from Germany to Brazil was highly commended by our judges, wowing them with how it overcame a strict deadline and the challenges of securing appropriate heavy lift airfreight services amidst limited aircraft options because of the Russian-Ukraine war.
It was Blue Bell Shipping, however, that rose to the top and secured the trophy with its time-critical project handling cargo from Canada to Erbil in Iraq, arranging a solution within three hours' notice.
Last-minute equipment changes from the original airline meant some of the cargo could no longer fly on its intended aircraft. This is when Blue Bell stepped in to arrange a solution: working in shifts, cargoes were hauled to Chicago, loaded onto a part charter flight to Dubai and then reloaded onto a dedicated B737 destined to Erbil

Blue Water Shipping is a global provider of all logistics services in modern supply chain management, offering its clients customised solutions with unique and high quality service. At the heart of Blue Water is an organisation of skilled professionals who offer complete and tailor-made solutions for any shipping requirement anywhere in the world. When Blue Water was founded in 1972, the ambition was to create a small, local freight forwarding company, which could provide clients with a better quality service than its competitors. Today, Blue Water is represented with more than 70 offices worldwide. In every Blue Water office, the company combines its strong global network with local expertise, adding value and providing its clients with services beyond transporting cargo in a safe and efficient way.
View full Profile