HLPFI takes a look at the shortlist for the 2020 Environment Award, sponsored by Blue Water Shipping.
All of this year's finalists have shown a considered approach to environmental concerns through an initiative, their day-to-day operations, or through the long-term strategy of the organisation.
Our shortlist for the Environment Award at the Heavy Lift Awards 2020:
Associated British Ports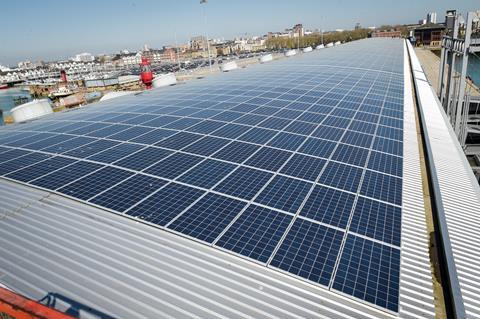 Associated British Ports (ABP) has been investing in sustainability over the last decade and is now seeing substantial reductions in emissions as a result. 17 of ABP's 21 ports have renewable energy generation providing clean power for the company and its customers. In 2019, ABP generated 22.2 GWh of green electricity: 18.8 percent of which was used by ABP; 2.4 GWh was used by ABP customers; and 7.2 GWh was exported to the UK Grid.
Renewables are just one part of ABP's environmental journey, as the company embarks on improving greenhouse gas (GHG) emissions and air quality, and endeavours to remove plastics from the marine environment.
CMA CGM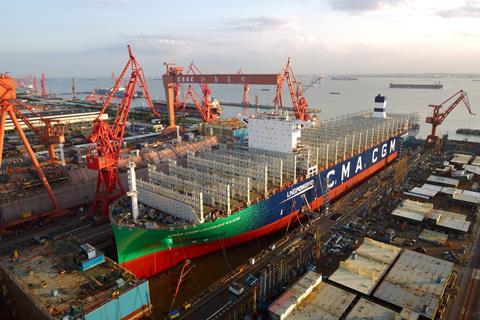 Committed to the industry's energy transformation, CMA CGM is continuously innovating in order to equip its fleet with the most environmentally friendly technology. Between 2005 and 2015, the group has already reduced its CO2 emissions per container transported by 50 percent and has a target to reduce these emissions by a further 30 percent by 2025.
The shipping company has decided to use LNG power in its new ultra-large ships – ­ a pioneering choice that took seven years of development in collaboration with shipyards, suppliers, SMEs and research laboratories. The first ship in this fleet of nine container vessels will be delivered as early as 2020.
Heerema Marine Contractors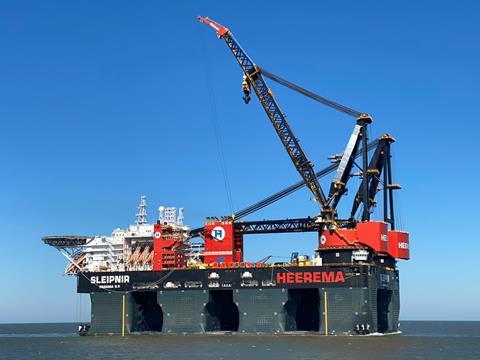 Offshore heavy lifting demands vessels that can operate in the toughest of environments while being able to lift the heaviest of weights. Heerema Marine Contractors' semi-submersible crane vessel, Sleipnir, is strong and mighty but is also one of the the world's most sustainable ships.
In addition to a wide range of environmental features, the offshore construction vessel calls upon a dual-fuel system that allows the ship to use LNG for power generation. LNG is much cleaner than conventional fuels and the investment has drastically reduced Heerema's emissions and puts the company at the forefront of the marine industry's journey towards sustainability.
Offshore Heavy Transport (OHT)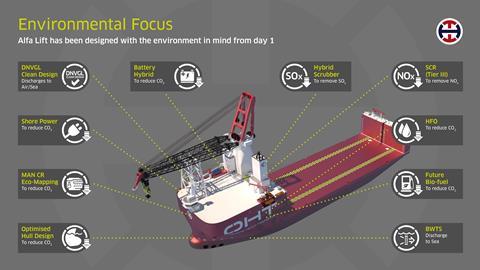 OHT's vision is to be a leader in heavy transport and installation ­ embarking on projects that contribute to an efficient and sustainable energy supply for the future. The company believes that this must be done in the most sustainable way possible and has taken proactive measures to minimise the environmental impact of its current fleet and its newbuild vessel Alfa Lift, which, from the get go, has been designed with the environment in mind.
OHT has invested heavily in market-leading technology to reduce emissions and is committed to building an organisation that has the environment at the forefront of its agenda.
Rhenus Logistics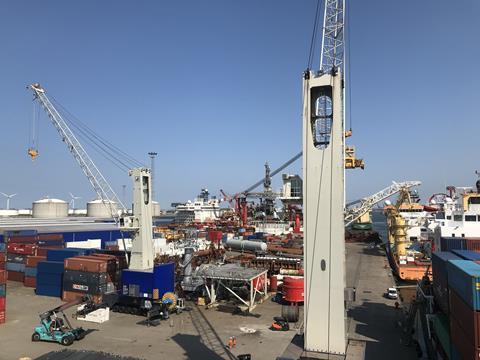 Breakbulk and heavy lift terminal operator Rhenus Logistics in Rotterdam ordered what it claims is the first electric mobile harbour crane in the Netherlands from Konecranes. The crane entered operation at the Rhenus Deep Sea Terminal at the Maasvlakte and uses a 690V external power supply, which reduces noise and exhaust emissions.
The electric mobile harbour crane is part of Rhenus' sustainability programme and part of the electrification of the Rhenus terminals. Other sustainability measures have seen the replacement of all lighting at terminals with LED lights; the installation of FlowDrive on its reachstackers that measure and monitor fuel consumption; the use of electric forklifts and the installation of solar panels on top of warehouses at the Maasvlakte, among other initiatives.
Sarens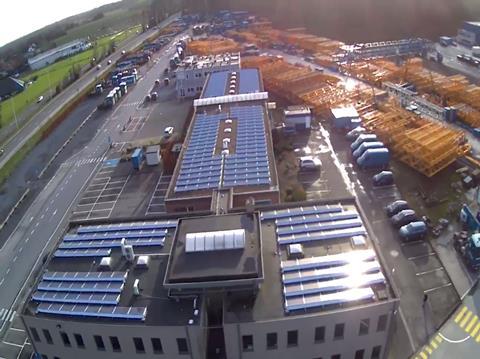 As part of ongoing green initiatives, Sarens recently installed 2,886 solar panels on the roofs and warehouses of its headquarters in Belgium. With an investment of around EUR1 million (USD1.13 million), the panels can produce 575 kWh of electricity per hour. Technically, in six hours the panels produce electricity for the yearly consumption of a family (695,000 kWh) or the electricity for 200 households annually, and accounts for 60 percent of Sarens' electricity needs.
The company plans to allocate another EUR250,000 (USD281,885) in solar panels at other Sarens' locations in Belgium and aims to produce electricity for the yearly consumption of at least 2,000 households by 2024.
Wallenius SOL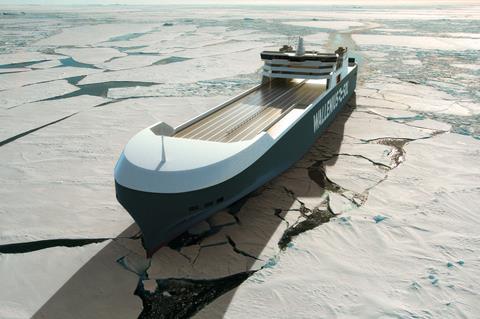 Wallenius SOL ­ – a joint venture of Wallenius Lines and Swedish Orient Line ­ – was formed with the belief that environmental sustainability is a pre-requisite to being able to survive in the maritime industry going forward. The company has therefore ordered two ice-classed mega ro-ro ships that will be designed and built to the highest environmental standard available.
The 27,000 dwt newbuilds will have 5,800 lane meters of cargo capacity and will be equipped with dual-fuel engines, with the intention to run them on LNG/LBG. Other features include the ability for electrical shore connection in all ports and battery packs for peak shaving.
The fuel consumption is expected to be more the 50 percent less than previous generation vessels.
Wallenius Wilhelmsen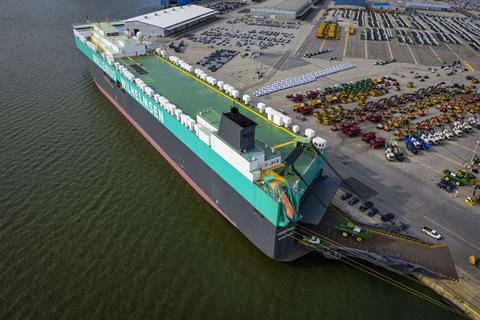 In 2019, Wallenius Wilhelmsen adopted a new mission statement: "Sustainable logistics for a world in motion".
With this, the company has put sustainability at the core of its culture, identity and strategy and sees it as both a driver of future business growth and a means to future-proof its business for the transformational period ahead.
A number of initiatives already in place, ­ including the development a carbon-neutral fuel as well as the ship recycling transparency initiative (SRTI), among others, ­ demonstrates that Wallenius Wilhelmsen 'walks the talk' with regard to its new purpose.
The winner of this year's Environment Award will be announced in October.
Find out more: www.heavyliftawards.com

Blue Water Shipping is a global provider of all logistics services in modern supply chain management, offering its clients customised solutions with unique and high quality service.
 At the heart of Blue Water is an organisation of skilled professionals who offer complete and tailor-made solutions for any shipping requirement anywhere in the world.
 When Blue Water was founded in 1972, the ambition was to create a small, local freight forwarding company, which could provide clients with a better quality service than its competitors. 
 Today, Blue Water is represented with more than 60 offices worldwide. In every Blue Water office, the company combines its strong global network with local expertise, adding value and providing its clients with services beyond transporting cargo in a safe and efficient way.
 Thomas Bek, global director, energy and projects at Blue Water Shipping, commented: "Sponsoring the Environment Award is something that appeals to us greatly. We take our environmental responsibilities very seriously, as does the wider project logistics industry, and we would like to help publicise this and encourage others to raise their game in the future."