The Innovation Award is presented to the company that has developed an innovative piece of equipment or technology designed to improve the lift or transport of heavy and oversize cargoes. Mammoet picked up the coveted trophy with a piece of software – Move3D.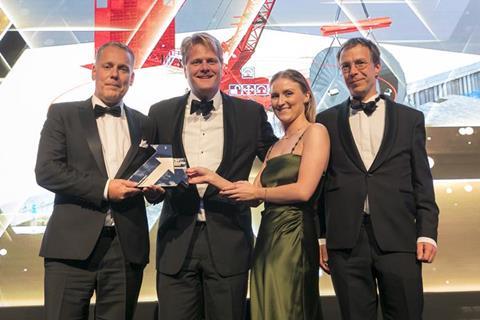 Competition was tough in this category and our judges decided to highly commend Konecranes for the latest ESP range of the Konecranes Gottwald Generation 6 mobile harbour crane that addresses decarbonisation, digitalisation and productivity, so congratulations to them.
Taking home the trophy was Mammoet for the development of its 3D digital platform – Move3D. The technology makes project planning more accessible, efficient and smart, allowing in-depth collaboration between stakeholders from the earliest project stages resulting in better solutions in terms of cost, time and safety. Our judges said that the solution will significantly improve both safety and efficiency.
The shortlist this year included deugro for the ro-ro vessels Rotra Mare and Rotra Vente, which were recently modified to continue to meet customer's transportation requirements; Faymonville for the development of the ModulMAX AP-M; and Sarens for the TP Handler 2.0 that can manoeuvre transition pieces in a precise and efficient way without the traditional use of a crawler crane.