The shortlist for this year's Ship Operator of the Year included some of the real heavyweights in the heavy lift shipping arena. AAL Shipping came away with first prize.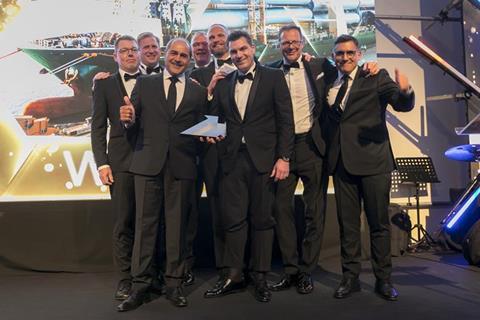 CMA CGM highlighted its project cargo division that enables it to handle cargoes with weights up to 500 tonnes, while dship Carriers detailed how it has grown since its foundation in 2014, increasing its fleet almost eightfold to a roster of 23 multipurpose vessels.
Also earning a spot on the shortlist was Jumbo-SAL-Alliance, which marked a significant milestone in heavy lift shipping by combing two of the most significant heavy lift forces of the industry into one common platform, and United Heavy Lift (UHL), which impressed our judges with its commitment to the environment and its aspiration to be the most sustainable heavy lift carrier globally.
Ultimately, in this highly competitive category, our judges found AAL Shipping to be "in a class of its own", demonstrating its commitment to its multipurpose customers – despite the container market surge – by adding capacity to its busiest trade routes, reinvesting its profits in technology and in building assets, and by offering long-term COAs with fixed rates. As one of our judges commented, "a company that has demonstrated great balance across its performance centres, with a culture of looking outwards and embracing leadership, change and innovation."

The Trans Global Projects Group (TGP) is a leading expert for freight and project management headquartered in England, with offices on six continents. TGP's subsidiaries include Natco Switzerland, Natco Germany and NPT Brasil. In addition to project logistics management, TGP's core activities include ship chartering, aviation logistics, logistics consultancy and transport engineering. The Group also offers a wide spectrum of services in global freight forwarding, supply chain management and integrated logistics as well as value-added services such as biosecurity, procurement, customs brokerage and insurance. 
 TGP delivers professional project management globally, with a growing presence in key markets in Asia-Pacific, Africa, Europe, Middle East and South America.
View full Profile