A record-breaking 550 people attended the annual BIFA Freight Service Awards on February 19, which took place at The Brewery in London.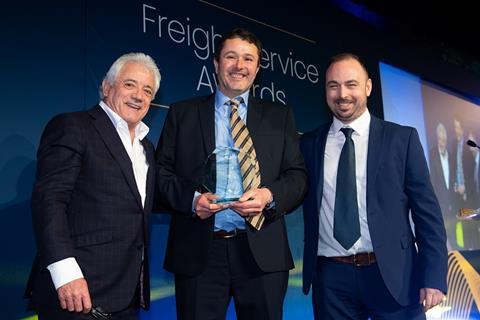 This year's host, football legend Kevin Keegan, revealed the winners of the 2022 Freight Service Awards. deugro (UK) emerged victorious in the Project Forwarding category, pipping John Good Logistics, Ucargo, and Wallis Shipping Services to the post.
Thomas Low, from OIA Global, impressed the judges with his initiative and drive to secure victory in the Apprentice of the Year category. Other shortlisted finalists were Cameron Smith (Ligentia UK), Elliot Haldane (Geodis Freight Forwarding UK), Jacob Kennerley (Cargo Overseas), Joel Amado (Aramex UK), and Kelly Bell (John Good Logistics), who received special recognition from the judges for her outstanding attitude.
The Young Freight Forwarder of the Year prize was awarded to Thomas Frost (Geodis Freight Forwarding) who impressed the judges with his ambition to make a difference within the industry.
Making up the shortlist in this category were Dalya Henry (ITD Global), Kyle Lawrence (OIA Global), Jordan Prangnell (Ligentia UK), Cheryl Sullivan (Ucargo Pacific Logistics), and Jenna Speed (Kuehne + Nagel) who also received special recognition from the judges for her enthusiasm and passion for the industry.
Newly appointed BIFA director general, Steve Parker, commented: "Now in their 34th year, the Freight Service Awards provide the perfect opportunity to come together and celebrate excellence within the sector and it was a pleasure to participate in something that is so highly regarded throughout the industry.
"BIFA thanks the members that submitted their entries to us, all of which were of very high quality, making the judging process very difficult. I would like to offer my congratulations to everybody who won an award and those who were shortlisted – the array of talent from everybody was exceptional.
"I would also like to recognise the support and contribution of the sponsors to the running of the competition. Representatives from each category's sponsor have been generous enough to give their time to conduct the judging and selection process for each award."
More than GBP3,500 (USD4,323) was raised for international development charity Transaid during the luncheon.
The full list of winners and shortlisted entries can be seen on the BIFA website.