4D Supply Chain Consulting has launched two additional e-learning courses that have been added to the 4D Training Academy – Bill of Lading Made Easy and Letter of Credit Made Easy.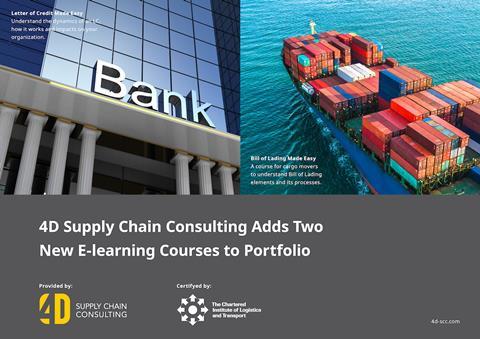 With Bill of Lading Made Easy, attendees learn to define the various types of Bill of Lading (B/L) and their importance, in order to determine the risks associated with them and how to mitigate them. Course objectives include: the identification and selection of the B/Ls best suited for shipments; understanding how to create comprehensive and clear B/L instructions; and an explanation of the best practices while dealing with a B/L.
In Letter of Credit Made Easy, trainees will learn what a Letter of Credit (LC) is, its purpose, the dynamics and terminology of the LC, the role played by each party involved, and be able to describe the process of issuing the LC. The identification and selection of the LC that is best suited for a shipment, understanding the rules of issuance and use of an LC, and determining the risks involved with an LC and how to mitigate them, are also course objectives.
Upon completing the modules and successfully passing the final assessments, a CILT-endorsed certificate of completion is awarded to the participant. 4D has partnered with more than 10 universities and training institutions globally, which will offer these courses to students.
"4D offers supply chain support, training, and manpower provision. Our trainings enable much-needed staff upskilling and continuous professional development to offer both new and already on-board staff the ability to take over tasks and run day-to-day operations," said Thomas Skellingsted, vice president at 4D.
Vilasini Krishnan, senior consultant at 4D, added: "We are proud to be recognised by CILT as well as universities all over the world. Being accredited by a professional body and recommended by universities underlines the quality of our products and services and their high standards."