AS Manutention's recently added an LTM 1750-9.1 mobile crane from Liebherr to its fleet, signalling the launch of its ASM Heavy Lift division.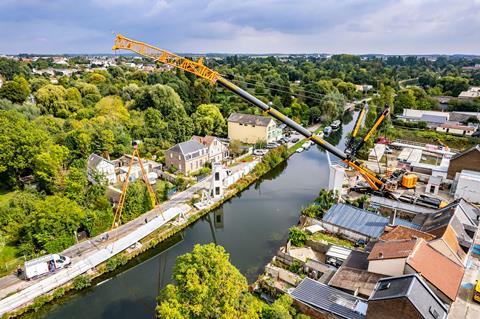 "The LTM 1750-9.1 features particularly high lifting capacities, the very latest technology and enormous variability in use," said Sébastien Aouni, managing director of AS Manutention. "We plan to use the 800-tonne crane in the chemical industry, wind power, bridge building and many other sectors."
The crane was recently deployed for the installation of a pedestrian bridge in Amiens, France.
Very little space was available for setting up the large crane, explained Liebherr. Smart set-up procedures, good planning, coordination within the team and the support of a Liebherr LTR 1060 telescopic crawler crane enabled the heavy-duty crane to be set up smoothly. At the end of the process, the Liebherr crane stood ready for action with 154 tonnes of counterweight and a 13 m fixed jib next to the River Somme, over which the pedestrian bridge was to be installed.
The LTM 1750-9.1 installed caissons that measured 20 m long and weighed around 20 tonnes. All the hoists were carried out using spreaders to minimise the pressure on the caissons.
"The LTM 1750-9.1 is our first investment in this class of crane. Liebherr has been a reliable partner to us since the company was founded seven years ago. All our other mobile cranes were also supplied by Liebherr," added Aouni.
The crane and haulage contractor is based in Biesheim in Alsace and also has sites in Strasbourg and Amiens. In addition to opening its ASM Heavy Lift division, the company has also established its own design office to enable it to plan and complete projects.